Who's Controlling Your Thoughts?


With Ameerah Lewis
...let the Spirit renew
your thoughts and attitudes.
Put on your new nature,
created to be like God—truly righteous and holy.
- Ephesians 4:23-24 (NLT)
Who's controlling your thoughts and emotions? Are you? Is God?
One of the hardest things for any Christian to do is to bring their thoughts into submission to God. The Bible speaks promises of joy and peace. And yet most people in today's society, Christians included, struggle with depression and anxiety. Fear and doubt.
But, how do you as a child of God gain victory over the battle for your mind? God has given you a way. Like all of your other needs, His provision for controlling your emotions and thoughts is laid out for you in His Word.
Since this is a special Celebration Edition of The Hem Devotional, I don't just want to write to you. I want to do somehting special.
I want to speak to you, directly to YOU, about God's promises to keep you in perfect peace...
You can watch the free video-lesson that I made for you here.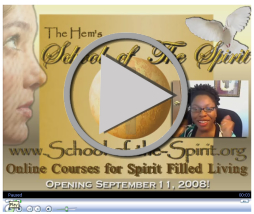 Praise God For 1 Full Year of Ministry!
Taking Over the Web for Jesus One Day At a Time...
Let's Celebrate Christ!