Just a Little Sneak Peek!
Get Immediate Access
10+ Hours of

FREE

Christian Seminars and Workshops
"This conference is an eye opener to all who want to get deeper in the word of God." - Akeem
"I am now so refreshed and so wanting to just shout out to the Heaven's
how happy and refreshed I am." - Sandy
"This is what God is doing here with this conference - breaking yokes (bondages) lies that have crept in and have hindered us from fully coming into the fullness of God." - Sherri

"
That lesson just went straight to the heart of things, This conference truly is 'Right Where God Want Us To Be'!!" - Pat
Don't Miss Out on this Life Changing Event!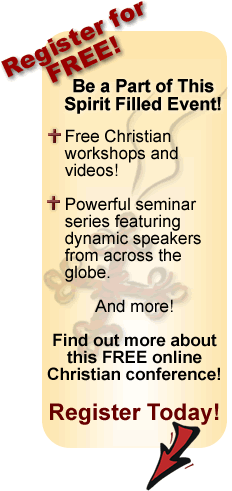 *I promise that your information is totally safe with me.
Read

The Hem's

privacy Policy.
Sponsored by The School of the Spirit. Once registered, be on the lookout for special email updates on other events and classes to help you connect with God!