Please Check Your Email...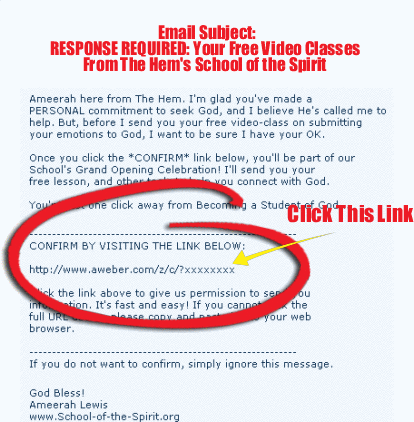 Important! In order to receive your Free Webclass Video on Controlling Your Emotions and other free gifts, you must confirm your subscription...
Step 1: Check your email several times over the next 5 to 10 minutes
Look for an email with the Subject:
RESPONSE REQUIRED: Your Free Video Classes From The Hem's School of the Spirit
The from line in the email will read: Ameerah
The from email address will be:

*If you don't receive it be sure to check your junk mail in case it got filtered as spam
Step 2: Confirm and activate your subscription
When you receive the email open it and click on the confirmation link (example shown above) to activate your subscription.
You'll immediately receive your free videos and a Sneak Peek into The Hem's School of the Spirit!
God Bless!
Ameerah Lewis
http://www.School-Of-The-Spirit.org
P.S. If you don't receive this email, contact me at: