---

In This Mini-Issue!

From Ameerah's Heart to Yours
Your Key to Intimacy with God

May's Monthly Meditations

Have you printed this month's Scripture meditation card?



Connect With God

Your Light, A poem by Ameerah Lewis





---
From Ameerah's Heart To Yours:

You Key to Intimacy with God...



Hi Everyone!

Welcome to May's

mini- issue

of The Hem Devotional!

If you read the May 7th issue of The Hem, you may remember that our theme this month is developing intimacy with God, and learning how to truly commune with Him.

I picked that theme because it is at the heart of most emails that I receive from Christians who visit The Hem, and was the central plea from those of you registered for the free Reaching for the Hem Conference -

I want to love God more deeply.
I want to know Him more intimately.
I want to feel worthy to be in His presence.
I want to know His voice and will for my life.

If those words reveal the true desires of your heart, I want you to find great joy in knowing that you are on the right track.

God promises:


...if from there you will seek

(inquire for and require as necessity)

the Lord your God,

you will find Him

if

you [truly]seek Him

with all your heart [and mind] and soul and life

.

(Deuteronomy 4:29 AMP)


So, what is the key to intimacy with God? The same thing that is the key to building any relationship - Diligent consistent effort.

If we want to develop intimacy with God, we have to make a conscious and consistent decision to seek Him with every ounce of our being. You see, He is already reaching out to us. But, we in turn have to reach out to Him.

We have to "require as necessity" His presence in our lives. We have to chase after it as if it were as vital to our existence as the very air that we breathe - Because, in reality, it is even more so.

The Psalmist said "As the hart panteth after the water brooks, so panteth my soul after thee, O God" (Psalm 42:1). Reading that forces us all to question, is my heart panting and thirsting after the presence of the Lord?

Building any relationship is not easy. It takes time and effort. To develop an intimate relationship with God, there are steps that you have to commit to taking on a daily basis to truly connect with Him.

If you are committed to seeking God with all that you are, and developing an intimate relationship with Him, I would like to invite you to join others of us who have made a decision to seek God with our whole hearts at the free Reaching for the Hem online Christian conference.

You can be a part of this Spirit filled event right from home, and each session starts and stops on YOUR command.

Join the 200+ Christians who have already purposed in our hearts to enter into the relationship with God that Jesus died to give us.

As we all recommit to our quest for more of God in our lives, I want to share a short poem with you that I wrote a few years ago. I never intended to share it with anyone but the Lord, since it is a love poem to Him, but I feel that I should share it with you today as we all reach out to connect and commune with our Heavenly Father.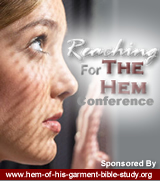 God Bless,


Top
---
Pass Along This Blessing!


Has The Hem Bible Studies and free eDevotional been a blessing to you? Help someone you love Reach For The Hem of God's Garment! Send them a copy of this eDevotional.

---
---
Monthly Meditations


Scripture Memory Card
---
Have you been using this month's meditations

. If not, print this scripture memory card, and meditate on these words from God throughout the month. Allow His Word to renew your mind
as you rediscover how to truly connect with Him.

Lord, Help Me To Commune With You Each & Every Day



[For my determined purpose is] that I may know Him
[that I may progressively become more deeply and intimately acquainted with Him, perceiving and recognizing and understanding
the wonders of His Person more strongly and more clearly]
– Philippians 3:10a (AMP)

If you [really] love Me, you will keep (obey) My commands.
And I will ask the Father, and He will give you another Comforter
(Counselor, Helper, Intercessor, Advocate, Strengthener, and Standby),
that He may remain with you forever. – John 14:15-16 (AMP)

...love the Lord thy God with all thy heart, and with all thy soul, and with all thy mind. -Matthew 22:36-38




---
Connecting With God:
Christian Inspiration and Motivation
Your Light


By Ameerah Lewis
Peace
I find it here
sitting in the Presence
of nothing less than
My God.
The gentle breeze of Your Love
glides across my face.
Your warm Son
sheds light on places
I thought could never reflect
You…
Your glory
Your love
Your peace
But they do
They reflect your Light
And now
Finally…
Finally, my daunting darkness has been replaced
by Your loving Light
And it covers me
I thought You Light would mock me…
Reveal my weaknesses
Make an open show
of my faults
And yet,
It covers me
It covers me
Until there is no more of me…
Only You.
Your Light has found me
and I will abide within it
Forever.
Copyright 2008 www.hem-of-his-garment-bible-study.org
Please do NOT use without permission.