Bible Study Online Courses

Helping You Connect to God Through His Word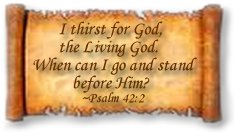 Longing for a deeper relationship with God?
Let God use these Bible study online classes to reveal Himself to you in a new and intimate way.

Living in this busy world, we often feel pulled in so many different directions. 
Sometimes, spending quality time with God gets pushed aside for what feel like more urgent matters.
But are they really...
"I am grateful to God for directing me to this ministry. He is always right on time. He always knows what is best for our lives."
-LaTrinda
Do you feel a longing inside for the Peace and Joy that only time alone with God can supply? Developing a hunger for God's Word is your key to unlocking the relationship with Him that your heart longs for.
Your Bible study time should not merely be a religious obligation. It should usher you into the very presence of God, and become the key to your Christian spiritual growth. 

Each of these Bible study lessons transforms your computer into a source of communion and intimacy with the Holy Spirit. 
Whether you are yearning to connect with God more deeply, or just more often, I invite you to embark on a unique experience. A journey into the deeper things of God at the places and paces that you determine. 

And All At the Click of Your Mouse...
Join Pastor Ameerah in these
Powerful Video Bible Classes! 
Now FREE!