Bible Study Online Courses
Helping You Connect With God Through His Word!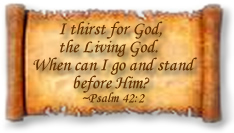 Longing for a deeper relationship with God?
Let God use these Bible study online classes to reveal Himself to you in a new and intimate way.

Living in this busy world, we often feel pulled in so many different directions.

Sometimes, spending quality time with God gets pushed aside for what feel like more urgent matters.

But are they really...
"I am grateful to God for directing me to this ministry. He is always right on time. He always knows what is best for our lives."
-LaTrinda
Do you feel a longing inside for the Peace and Joy that only time alone with God can supply? Developing a hunger for God's Word is your key to unlocking the relationship with Him that your heart longs for.
Your Bible study time should not merely be a religious obligation. It should usher you into the very presence of God, and become the key to your Christian spiritual growth.

Each of these Bible study lessons transforms your computer into a source of communion and intimacy with the Holy Spirit.
Whether you are yearning to connect with God more deeply, or just more often, I invite you to embark on a unique experience. A journey into the deeper things of God at the places and paces that you determine.

And All At the

Click

of Your Mouse...
Join Ameerah for 2014 Seeker's Challenge...
Start This New Year Off Reaching Out to God!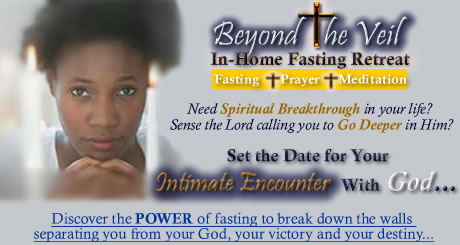 Be Inspired and Renewed

by God's Promises...
---
What's on your heart?
Choose from this collection of Bible Study Online Resources.


Free VIP Program! Receive our inpiriational free Christian eZine, an exclusive 4 part audio series on connecting with God and more!
Feel God drawing you into a deeper relationship with Him, but not sure where to start? These powerful online classes will guide you step by step on your transformational journey...
Longing for an intimate encounter with your Lord? Invite Him into your home through this unique in-home Christian fasting retreat.
Connect with God through these audio Bible study online lessons. Learn how to apply God's Word to your daily life.When we draw near to God, He draws near to us.
Now FREE with any donation! Want to take your relationship with God the next level. This unique Bible study book package combines study, a prayer journal, and daily scripture meditation to transform you from the inside out!
The Hem of His Garment Bible Study is a Christian internet ministry. Here lies my mission and statement of faith.
You're Invited: LIVE Christian seminar on developing spiritual intimacy with God! Join us right from home every other week for our free Christian tele-class!
Want to pick your Bible study by topic? Think of this growing list of topical Bible studies as a virtual Table of Contents for your free Online Bible Study Book!
Have a hunger for more time with God, but struggling to fit it all in? Pick one of these courses and have free online Bible study lessons sent directly to you via email!
Need Help Applying God's Word to Your Life? A safe place to anonymously ask Christian questions where you won't be judged or embarrassed.
God designed you with a strength all your own. Learn how to be the woman God created you to be and fulfill your unique destiny through this free Women's Bible Study course.
Looking for ways to apply the Bible to your daily life? These Christian life free online Bible courses can help you reign victorious over your every-day battles.
Every part of your life matters to God. Christian healing and wholeness is a gift. Learn how to recieve it for yourself today.
This Bible Study Holy Spirit Filled Living Course is for every Christian who wants more of God. Learn how to receive the Holy Spirit and change your life in every way.
Trying to find a fun way to implement family Bible study time in your home? Trey these free kid's Bible studies, activities, and games.
Looking for ways to get your kids excited about God? These free children's Bible activities are designed to do just that!
Find out the truth about using Christian meditations. Are they ok? How can they help you? Plus free Bible meditation cards and more!
There are so many versions of the Bible. Discover how to pick the best Bible translation for your personal and spiritual needs.
Searching for how YOU can develop a deeper relationship with God? These resources can help!
Looking for an online Bible study group that really digs into God's Word? Come learn, fellowship abd grow!
Looking for free printable Bible study resources? Print off adult Bible studies. Kids Bible lessons and word searches. Prayer journals. Scripture memory cards, and more. And all for free!
Here's a great Christian writing opportunity! Get dedicated webspace to share God's Word with the world. Write one article a month, or as many pages as you want!
Have a need in your life? Take your problem to the Throne of God. Submit a Christian prayer request to the prayer corner, and watch the power of prayer transform your life.
Have you been blessed by the collection of free Bible Study Resources you've found here at The Hem? Invite friends and family to Share this site!
Free Christian conference ON DEMAND! Be refreshed and inspired! Includes a Christian seminar series, Christian workshops, videos, and more!
Could you use some Christian inspiration? A little help living a passionate and godly life before the Lord? Then "Reach For The Hem!" This blog is your special place to come and develop the faith and strength you need for daily Christian living.
Do you have a Christian testimony that needs to be shared? Share your story of God's provision, and be inspired by the stories of others.
The Bible Study Online Blog is a great way to stay up-to-date on the new Free Bible Study lessons available to you through The Hem of His Garment website. Subscribe Today!
This is not my website - It is here for you! Share your feedback, Bible study topic, or whatever is on your mind in letters to the author!
Share God's Love with the world through these Free Christian Ecards! Use these inspirational Christian cards to share God's Word and His Heart with those you love.
Test your knowledge of God's Word with these free Bible trivia questions. A fun way to learn the Bible!
Looking for a Christian affiliate program that is focused on serving and NOT selling? The School of the Spirit's Christian Affiliate Team may be your answer...
Looking for a Christian speaker in Cincinnati Ohio or the surrounding areas. Ameerah Lewis teaches Believers how to move from religion into an intimate relationship with God.