Bible Study: Holy Spirit Filled Living Course
…Not by might, nor by power, but by my spirit, saith the LORD of hosts. ~Zechariah 4:6
Each Bible Study on the Holy Spirit that you find in this course is designed to help you draw closer to the Spirit of God.
These Bible lessons on the Holy Spirit are listed in order, starting with this short introductory lesson.
Enjoy!
---
Holy Spirit Filled Living Course:
Lesson 1

Which of these people would you just LOVE to hire right now?

A Counselor * A Helper * An Intercessor
An Advocate * A Strengthener * A Standby
Well, if you have given your heart over to Jesus, whether you realize it or not, you have access to each of these every day of your life! They are all yours for free in the Holy Spirit. Jesus paid the price for you to have everything you need to live a life of victory!
…If I do not go away,
the Comforter
(Counselor, Helper, Advocate, Intercessor, Strengthener, Standby)
will not come to you [into close fellowship with you];
but if I go away,
I will send Him to you
[to be in close fellowship with you].-John 16:7
When Jesus left the Earth, He did not leave you here to live this life on your own. Why? Because He loves you.
Your Heavenly Father knows that none of His children can win in this world alone. Sometimes we try to, but we end up weary and battle worn because it is:
…Not by might, nor by power,
but by my spirit, saith the LORD of hosts. -Zechariah 4:6b
God wants you to have
joy
and
peace
. To walk in
love
and
patience
. But, you are powerless to do any of these things on your own.
It is by receiving the Holy Spirit that your life really changes. His Spirit is a Holy seed. It will bear The Fruit of the Spirit within you, and even give you access to spiritual gifts hand picked to line up with your destiny.
God is calling us all to connect with His Holy Spirit in a special way, and take our relationship with Him to a deeper level. It is through the power of the Holy Spirit that you will be able to become who God truly intended. The rest of your free Bible studies on the Holy Spirit will help you to unleash that power in your own life.
Holy Spirit Bible Study Course
Introduction Questions
1. Do you ever find yourself trying to do things on your own power? Why?
2. How does it make you feel to know that the Holy Spirit has been sent to "be in close fellowship with you?"
3. What are ways that you could use the gift of the Holy Spirit more in your life?
4. What would you like to get out of these Bible studies on the Holy Spirit?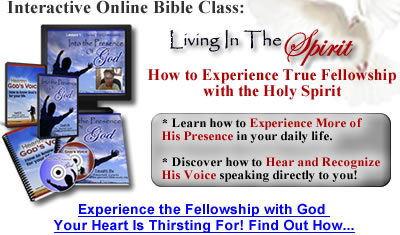 ---
Enjoy Your Journey through this
Free Holy Spirit Filled Living Course

Your Holy Spirit Bible Study Lessons build upon one another.
Click on the first Bible Study on the Holy Spirit to Begin
Are you hungry for more of God in your life? The Hem's free eDevotional can help you connect with God in a deeper more intimate way.
You'll never feel spammed or inconvenienced - Just inspired and refreshed by
your monthly Christian devotional, scripture meditations and free Bible studies.
Fellowship! Answer! Learn!
Grow!
What Other Christians Have Shared With the Group!
Click on the links below to read what other Holy Spirit Filled Living Group Members have shared. Add your own thoughts, and words of encouragement.


Finished with the Bible Study Holy Spirit Filled Living?
Click here to select your next topical Bible Study.