4 Steps To A Closer Walk...


How To Become a Friend of God


Do you long for a closer relationship with your Heavenly Father?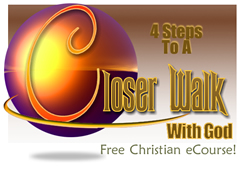 Discover how to become a friend of God in this free Christian eCourse!
We all want a deeper relationship with God, but sometimes we just don't know exactly where to start.
But you can start right here right now!
Jesus told the disciples:
"I no longer call you slaves, because a master doesn't confide in his slaves. Now you are my friends..."
-John 15:15 (NLT)
Wouldn't you like Jesus to say that about the relationship that the two of you share? You can share that same closeness with Him now that they shared with Him then.
And this short course is just the jump start that you need to get there!
What You Will Discover
Throughout This Free Christian Course:

The 4 most common road blocks that separate believers from their Heavenly Father.


The key element required to build a strong relationship with God, and how you can develop it within yourself.


What it means to be a spiritual cripple, and how to make sure it doesn't happen to you.


The four letter word that keeps most Christians bound up in religion instead of being free to enjoy intimacy with God.


How to leave the past in the past and embrace your future in Christ.


How your thoughts may be standing in the way of your Christian spiritual growth and how to stop them.
---
It's a Free Gift!
4 Steps To a Closer Walk With God is my free gift to you. I pray that it's a blessing to you, and that it helps you to connect with God in a very special way.