Christian Healing Course:
Be Made Whole In Jesus Name!
And the whole multitude sought to touch Him: for there went virtue out of Him, and healed them ALL ~ Luke 6:19
Christian healing is something very close to my heart.
I was not raised Christian. But, by the time the Lord finally got hold of me, I had lots of places that I needed Him to heal.
Like me, you may need a healing touch from God in your spirit, your emotions, or even in your body. Whatever touch you need, it is exactly what Jesus went to the cross for.
...It was our weaknesses He carried;
it was our sorrows that weighed Him down.
He was beaten so we could be whole.
He was whipped so we could be healed.
-Isaiah 53:4-5 (NLT)
Faith Healing vs. Miracles
Before we begin here, we need to make an important distinction. A biblical healing and a miracle are not the same thing.
I am not sure if you can relate. But, I personally have shed many tears because I didn't understand the difference.

After being ill for a few years, I was eventually diagnosed with Chronic Fatigue and Fibromyalgia.
I would go up for prayer at various healing services, and wondered why others were being healed instantly, while I was not. Did I not have enough faith? Was healing just not for me?
I went through similar turmoil as I sought Jesus' for healing over childhood abuse and other pains in my heart. Did He just not care about me?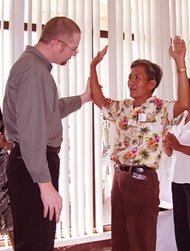 What God taught me through His Word, time alone with Him, watching my own healing manifest, and watching others be restored, is that a miracle is instantaneous. A healing is gradual.
Whether physical, emotional, or spiritual, your healing usually comes in layers. It is as if God carefully removes each layer of pain as He works inside of you until you are fully restored.
If you are seeking God for an emotional or spiritual transformation, God specialized in restoring our broken places. As you discover how to take yourself before Him, shattered pieces and all, He will put you back together again.
---
Christian Healing Course: Lesson 1
4 Keys To Receiving Healing From God
If you are seeking God for a healing touch in your body, I want to start off our course by sharing 4 things with you that I've discovered are
KEY
to any faith healing journey:
You must believe that healing is a part of your Heavenly Father's true nature.

If you don't think that God is still willing to heal His people, or are convinced that healing has passed away, developing the faith needed to receive your healing is going to be near impossible.



You will need to receive the power of God's forgiveness before you can receive His power to heal you.

If you are still carrying around feelings of condemnation and you feel separated from God, you will never be able to receive anything from Him - Healing included.



You must understand in the depths of your heart that Jesus is not the one who made you sick.

Because of things I had been taught in the past, this was something that was hard for me. But I found biblical truth of this key fact in the book Healing From God is Available. If even a small part of you still believes He made you sick, it will be harder to have the faith that He is willing to make you well.



You will need to fill your heart and mind with God's promises concerning your healing.

God's Word has power. He calls it our sword of the spirit realm. But, it can't just be in your mind; it needs to be in your heart. Reading God's Word and Christian healing books based on His Word will help make His promises more real to you.

May God be your Peace as you travel through your Christian healing journey.


For My Free Inspirational Christian Healing Computer Wallpapers
Click Here!
---
Continue Your Transformational Journey
Through This Christian Healing Bible Study Course
Fellowship! Answer! Learn!
Grow!
What Other Christians Have Shared With the Group!
Click on the links below to read what other Christian Healing Group Members have shared. Add your own thoughts, and words of encouragement.


Finished with the Christian Healing Bible Study Course?
Click here to select your next topical Bible Study.