Is Christian Healing for Everyone?
by Ameerah Lewis
(@ The Hem)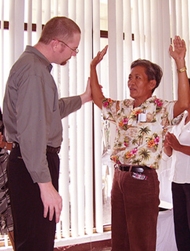 Often times throughout my own healing journey, I have asked myself, is Christian healing for everyone?

I mean, when you look at all of the sick people in the body of Christ, it can make you wonder. Is God really willing to heal all of us, and we are missing the boat. Or, are some of us just meant to be sick?

Many Christians still believe that God uses sickness to teach us something, or that God is somehow glorified by our suffering.

What do you think?

Does Jesus still heal today like He did when He walked the Earth?

And, if so, is Christian healing for everyone, or only certain chosen people?