Bible Healing Scriptures:


Let's Sharpen Our Swords!


I am alert and active,watching over My word to perform it.
~ Jeremiah 1:12 (AMP)
There is a secret weapon in your healing battle: The power of confessing Bible healing scriptures.
Ephesians 6:17 calls God's Word the Sword of the spirit realm. You are indeed in a battle for your life. It is time to whip out that sword and get it ready!

---
The Living Power of God's Word
Did you know that God's Word is
alive
! Contrary to what your enemy would like for you to think, God's Words still have tremendous power on this Earth - Especially when they come out of the mouth of one of His heirs.
God compares His Words to rain that sprinkles down and causes the ground to sprout and bare fruit.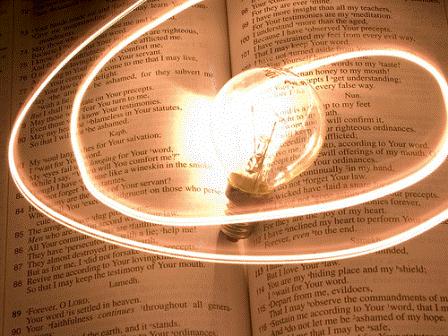 So shall My word be




that goes forth




out of My mouth:




it shall not return to Me void




[without producing any effect, useless],




but it shall accomplish




that which I please and purpose,




and it shall prosper in the thing for which I sent it.


-Isaiah 55:10-11 (AMP)
That means that each of the Words in the Bible will do what it says. It actually has the power to produce results that we can see here in the physical realm! Does that make you as excited and hopeful as it makes me?
God also tells you:
I am alert and active,




watching over My word to perform it.


- Jeremiah 1:12 (AMP)
God is actually watching and waiting. Waiting for what, you ask?
For you to speak His Words in faith so that He can perform them. Not the doctor's words. Not the devil's words.
His living Words.
Just like when you originally received Jesus into your heart, you can confess these healing scriptures with your mouth and believe them with your heart unto wholeness.
Practice keeping the healing power of God's Word in your mouth. Print these Bible Healing Scriptures and put them somewhere visible. Practice confessing them aloud on a regular basis.
Bible Healing Scriptures
Keep Your Sward Ready!
Then your light will break forth like the dawn, and your healing will quickly appear; then your righteousness will go before you, and the glory of the LORD will be your rear guard.- Isaiah 58:8 (NIV)

He himself bore our sins in his body on the tree, so that we might die to sins and live for righteousness; by his wounds you have been healed.- 1 Peter 2:24(NIV)

Praise the LORD, O my soul, and forget not all his benefits- who forgives all your sins and heals all your diseases- Psalm 103:2-3(NIV)

My son, pay attention to what I say; listen closely to my words. Do not let them out of your sight, keep them within your heart; for they are life to those who find them and health to a man's whole body.- Proverbs 4:20-22 (NIV)

Come to Me, all you who labor and are heavy-laden and overburdened, and I will cause you to rest. [I will ease and relieve and refresh your souls.]- Matthew 11:28 (Amplified)

With long life will I satisfy him and show him my salvation.- Psalm 91:16 (NIV)

I will not die but live, and will proclaim what the LORD has done. -Psalm 118:17

Instead of their shame my people will receive a double portion, and instead of disgrace they will rejoice in their inheritance; and so they will inherit a double portion in their land, and everlasting joy will be theirs.- Isaiah 61:7 (NIV)

To all who mourn in Israel, He will give a crown of beauty for ashes, a joyous blessing instead of mourning, festive praise instead of despair.- Isaiah 61-3 (NLT)
Click Here to Print Free Healing Affirmation Cards Of These Healing Promises!
---
Personalize It!
These healing affirmations from God's Word are for you personally. Jesus would have gone to the cross if you were the only one of His children that needed restoration. Don't allow yourself to forget that.
As a reminder of this important truth, personalize healing scriptures as you read them.
For practice, read this scripture aloud. Make it personal to you by reading your name in the appropriate blanks.


Surely He has borne

(My Name's)

griefs




(sicknesses, weaknesses, and distresses)




and carried

(My Name's)

sorrows and pains [of punishment]…




He was wounded for

(My Name's)

transgressions,




He was bruised for

(My Name's)

guilt and iniquities;




the chastisement [needful to obtain] peace and well-being for

(My Name)

was upon Him, and with the stripes [that wounded] Him

(My Name)

is healed and made whole.


-Isaiah 53:4-5 (Amplified- Modified to fit 1st Person)
Bible Healing Scriptures
Reflection Questions
1. Do you believe in the power of speaking God's Words out loud? Why or why not?
2. Optional Journal Topic: Take five minutes. Write a short letter to God that describes what you need from Him. Include some of the Bible Healing Promises from today's lesson. Finish up the letter by casting a vision for yourself as healed and whole – The way that God sees you now. Then, praise God in advance for the healing you expect to see. Put your letter in a safe place, so that you can refer back to it.

And the LORD answered me, and said,




Write the vision, and make it plain upon tablets…




For the vision is yet for an appointed time,




but at the end it shall speak, and not lie:


though it tarry, wait for it; because it will surely come,
it will not tarry..


the just shall live by his faith.

-Habakkuk 2:2-4
I hope that this Healing and Wholeness Bible Study was a blessing to you. You have learned the true meaning of
Jesus Saves
. You realize that
He is definitely still healing people today.
And, now your sword is sharpened and you are ready for battle.
Healing & Wholeness Foundational Bible Study
Finished with the Bible Healing Scriptures?
Click here to select your next topical Bible Study.