Free Christian Desktop Wallpaper For You!


Great for Home or Even the Office!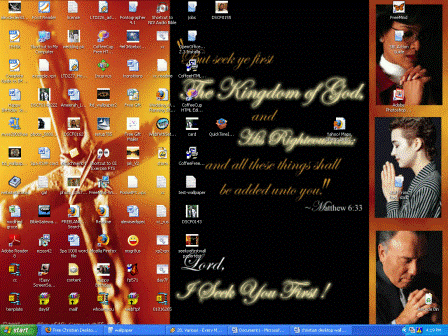 Thinking of adding Christian desktop wallpaper to your computer screen?
Having the Word of God as your wallpaper might just be the quick inspiration you need to get you through a tough day!
Put them on your home computer, or even at work.
Why use Christian Wallpaper?
It keeps your mind stayed on God! Don't we all need that constant reminder of who and whose we are? Your computer screen could be that for you.


It makes meditating on God's promises easier. Your Heavenly Father wants you to meditate on His Word. Having it constantly right in front of you means that your sword is always sharp and ready.


It ministers to those around you. This is especially true if you add the wallpaper to your work computer. It can easily create a witnessing opportunity by catching the eye of a passerby!
All wallpaper is provided in 800 X 600 Format.
To download your free Christian wallpaper, simply follow these directions:
Just choose the wallpaper that you would like
Click on the image and a larger picture will open for you.
Right click on the larger image to begin downloading.
Click "save link as" or "save target as" (whichever option is available with your browser).
Save the wallpaper with a memorable name and location.
And that's it!
When you go to change your wallpaper,
your new file will be waiting there for you.
I pray that you enjoy these Free Christian Wallpapers as my gift to you. May they be an ever present reminder of God's love and commitment to you.
Enjoy Your Free Christian Desktop Wallpaper!
---
More Great Christian Wallpaper in The Hem's
Free VIP Corner!
Already a V.I.P?


Access the Full Wallpaper Collection Now!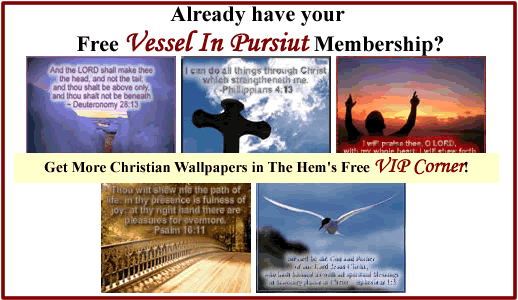 Get Immediate
V.I.P. Status!
What's a VIP?
Vessels in Purtuit is a
FREE V.I.P. Membership
to The Hem Bible Studies. Members have access to a collection of free Christian eBooks, a monthly eDevotional, inspirational videos, prayer journals, desktop wallpaper, and much more!
And it 's available to all Christians with a heart and passion for God absolutely free!
Find out more..
Finished with your free Christian Desktop Wallpaper?
Click here to select your next topical Bible Study.