The Annointing Grows As We Grow
by Annonymous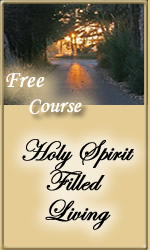 Sometimes I don't feel sufficient. I feel like His strength is sufficient. I believe there are deeper levels of revelation for people who seek after God with abandonment. The deeper you go the more you receive. Its more than just receiving His Spirit.

For me I know I've been baptized in the Holy Spirit but it hasn't given me a lot of power or anything. But I believe as time goes on and i get to know the Lord more that power and anointing will increase.
Return to The Holy Spirit Filled Living Online Bible Study Group.