Hearing God's Voice In Our Daily Lives
by Christian S.
(Charlotte, NC)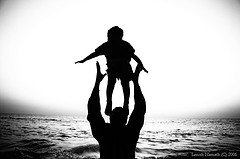 There have been it seems a dozen times that my husband is astounded by what is revealed to me even with silly play with our children. lol

One of the moments that quickly comes to mind is one time my husband and son were playing on the bed, well my husband kept sweeping his feet and my toddler son thought it was hilarious. I told him to stop b/c our son was going to bite his tongue, my husband laughed and then once again swept my sons feet from beneath him, I kid you not the very next time he did it my son bit his tongue and just cried...my husband felt so bad.

Of course when it happened again and then again but in different scenarios, sometimes like the first being almost exact, I truly learned to believe it to be our "guardian angel" or the sweet Lord himself.

Trust me now when I say my husband listens. lol

I'm guilty of not always having the spiritual ears on, just tonight while giving my children a bath, my children were playing with bath toys, and "something," lol, told me to have my son put up the bucket he was using to feel with water and pour over his sister. (she loves it)I didn't and a moment later, he had accidentally dropped the bucket on her face and a small cut showed up under her eye. I totally felt silly for not listening . lol

May seem silly, but I believe it. He helps us with the major and minor catastrophes in day to day life, Praise God.
Return to The Holy Spirit Filled Living Online Bible Study Group.