Fruits of the Spirit Lesson 2
by Lisa
(Hopkins, SC)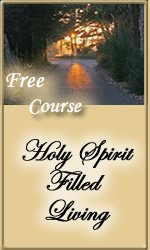 In our free Bible Study on the Fruits of the Spirit, we broke down each of the 9 fruits, one by one. In lesson 2 of our Bible study, we talked about love, joy, and peace.

Here are Lisa's Response to that lesson...

Q.1 Why do you think that it is significant that Jesus uses the action verb Agapao to describe the kind of love that the Holy Spirit wants to develop inside of you?

Because love is an action word it involves saying as well as showing love.

Q2 Why do you think God tells you that His joy is what acts as your strength during trying times? Can you think of a time when His joy kept you strong?

Because if we have joy we know that God is able to bring us out of what ever situation we are in. Joy is not based on happiness it is based on who God is in our life.

Q3. Why do you think so many Christians today struggle with receiving and maintaining God's peace? Do you feel that you have a problem maintaining your peace?

We allow the things we go through to be in control rather than giving it all up to God. It is he that handles everything we may encounter.