---

In This Issue:

From Ameerah's Heart to Yours
A short note to you

Monthly Devotional

Returning to Your First Love



Guest Columnist Article


Your Have Always Been There ... a love letter to the Father



New At The Hem!
New Bible lessons and resources from The Hem




---
From Ameerah's Heart To Yours:

A short note to you...



Greetings from The Hem!

Welcome to another issue of The Hem Devotional! I'm so thankful that you've invited me into your life to share a bit of the love God has given to me with you.

If this is your first issue of The Hem, I 'd like to personally say Welcome! I pray that this email helps you to keep your eyes focused on Jesus regardless of your outward circumstances.

If you've received this eDevotional before, you may notice that the format is a bit different. I hope you find it easier to navigate and get around to the information your looking for.

I've recently created two new eBooks that I'd like to give you as thank you gifts for letting me join you on your spiritual growth journey. They are both compiled of key courses offered at The Hem, but as eBooks they are easier to print off, study, or even email to friends!



Click on the Links Below to Download Your Free eBooks:


Discovering the Purpose of Womanhood
Bible Study Basics: How to Study the Bible Effectively

You may have noticed that The Hem website has become much more interactive! I am hard at work creating a living breathing Christian community at The Hem. You can now share your Christian testimony, ask Bible questions, and even discuss all of your free Bible lessons without even leaving the studies.

It's so much fun reading through all of the things people are sharing. I encourage you to come by and check it out - It's free, and you don't even have to register to join in on the fun!

Well, February is the month of Valentine's day, so this month's issue of The Hem eDevotional will be focused on one of my favorite subjects - LOVE.



Our

LOVE

for God, and His

LOVE

for us...


Top


---
Want a Deeper More Intimate Relationship With God?


Can you sense in your heart that it's time to take your relationship with God to the next level? I truly believe the new Bible study program that God gave to me can help you get there. This 10 week Christian course has already been called "a personal answer to a cry from the heart."

Find out what Christians around the world are discovering for themselves.
Get your free sample lesson today.


---
Monthly Devotional:
Returning to Your First Love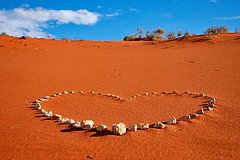 I know you are enduring patiently and are bearing up for My name's sake, and you have not fainted or become exhausted or grown weary.
But I have this [one charge to make] against you:
that you have left (abandoned) the love that you had at first
[you have deserted Me, your first love]...
Repent (change the inner man to meet God's will) and do the works you did previously [when first you knew the Lord]

-
Revelation 2:3-5 (AMP)
It is the official month of love!
Throughout February, we will be surrounded by pictures of cupid and pink and red hearts every where we turn.
I must admit, I am one of those sappy types. I'm always looking for any excuse to celebrate the love God has blessed my husband and I with (I've even been known to make up holidays of my own). But, the approaching Valentine's day has really made me stop and think about my first Love- My Heavenly Father.
Just like any relationship, the spiritual love affair that we share with our Heavenly Father has its peaks and valleys. When we first begin to connect with God, we are so excited. Everything feels new, and we feel so alive!
But, as time goes on, it is easy for the passionate love that you once held in your heart to lose some of its spark. It's not that you don't still love the Lord. It is just that you have not spent enough time nurturing your relationship with Him to strengthen and deepen the love that the two of you share.
I think it is so profound that, in the scripture above, God acknowledges that these people are patiently enduring hardships for His name's sake. He even commends them for not growing weary. But, their endurance is not what God truly desires - He wants their heart.
Just like any spouse, God wants you to love Him just as passionately as you did when you first met. If you only saw your husband or wife in a crowded building once a week, how close could the two of you possibly get?
It takes designated time alone with the one you Love to strengthen the bonds between the two of you.
This Valentine's day, take some time and think about your first Love. Think of special ways to express your love for Him, and to show Him that He is still #1 in your life.
---
Monthly Meditations


Scripture Memory Card
---
Print this scripture memory card, and meditate on these words from God throughout the month. Allow His Word to renew your mind as you begin falling more deeply in love with Him all over again!
Lord, help me to fall in love with You more deeply every day!



And you must love the Lord your God with all your heart, all your soul, all your mind, and all your strength. -Mark 12:30 (NLT)



But I have this [one charge to make] against you: that you have left (abandoned) the love that you had at first [you have deserted Me, your first love]. Repent (change the inner man to meet God's will) and do the works you did previously [when first you knew the Lord]
-Revelation 2:4-5 (AMP)

We know how much God loves us, and we have put our trust in His love.
God is love, and all who live in love live in God, and God lives in them.
-1 John 4:16 (NLT)
Top
---
Pass Along This Blessing!


Has The Hem Bible Studies and free eDevotional been a blessing to you? Help someone you love Reach For The Hem of God's Garment! Send them a copy of this month's eDevotional and free Bible Lessons.

---

Guest Columnist Article:

You Have Always Been There


By Guest Writer Shari Weigerstorfer

My Dear Friend, I've never been alone because of You. I've never cried a tear You did not dry. I've always known Your comfort, Your care and Your companionship. You have always been with me. You have always been there.

From my earliest moments, I knew Your precious presence. Creator of life, You gave me life. You were present at my birth; planning my days, knowing my times, understanding my ways, walking ahead, protecting, supplying and guiding.

You who are outside time have shared time with me. The life You gave me, You've lived with me. As my lifelong companion, we've walked this life together. You have always been there.

You taught me how to love and how to trust. You're now everything to me and the essence of our relationship is an intoxicating, heady fragrance which permeates my life and beautifies my days. It is always there.

You've never left me, my faithful friend, my teacher, my guide. You've known me and loved me through it all.

And when my life is through, You will be there too. Leading me on to wherever we will go and to whatever we will do. You have always been there. You won't leave me then. We'll be together as always. My dear Friend and I.

Psalm 71:5-7 "For Thou art my hope; Oh Lord God, Thou art my confidence from my youth. By Thee I have been sustained from my birth; Thou art He who took me from my mother's womb; my praise is continually of Thee."



* * * * *


Shari Weigerstorfer is a free-lance Christian writer, native to the West Coast of America. When not indulging in her passion for travel, she writes from her home in Switzerland. Other articles by Shari can be found on her site at Faithwriters.com.

Article Source: http://christian-topics.inf

Top

---
Need Prayer?


The Prayer Corner has moved to the main Hem of His Garment Bible Studies site! Now, you can submit your prayer requests and receive prayer and encouragement from Christians all around the world. Don't have a prayer request? Then come along side those of us that do at The Prayer Corner.


---
New This Month At The Hem!
To Get Instant Notification When A New Lesson or Resource is Added, Simply Subscribe to The

What's New At The Hem

Bible Study Blog!


Exciting New Extras!

Victorious Christian Living Bible Lessons

Holy Spirit Filled Living Bible Lessons

Family and Children's Bible Resources
---