Bible Games for Kids:


Making God's Word Fun for Young Ones!

One of the best ways to train your kids up for God, is to make developing Godly character fun from a young age!

That's why I recommend Bible games for kids as a way of introducing, and reinforcing, Biblical principles. They are a quality investment for any Christian family!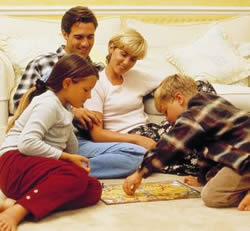 Many times we spend (or, dare I say,
waste
) our money on games for our children that have no long term value. They are fun for the moment, but what work do they accomplish inside of our children? Can they help them become the people that God created them to be?
These Bible games for kids will not only be fun for the whole family, but they will sow seeds of Biblical values into your children that will bear fruit for years to come.
Any teacher will tell you; children learn best through play! So, what better way to teach your children about their Heavenly Father than through Christian games for kids their age?
Of course, not all kids Bible games are created equal. But, each of these have been hand picked to help you build Godly character in your child.
---
The Hem Bible Studies Recommends these
Christian Board Games for Children
Bible Land Adventure Game

Looking for a game for your 3- to 6-year-olds that's more "nutritious" than Candy Land but just as simple to play? This easy-to-learn game introduces youngsters to exciting Bible stories as players move around the brightly colored board, landing on pictures of biblical events. The object of this game is to be the first player to move from Creation (Start) to Heaven (Finish). Includes 4 colored playing pieces, one 6-sided die, playing board, and an instruction and story sheet. Recommended for 2 to 4 players,

ages 3 to 6

.
Noah's Rainbow Race Board Game

Can't face one more game of Chutes and Ladders? Gather your pre-readers for an exciting romp around a favorite Bible story instead! Players guide a pair of animals to the top of the ark to visit Noah---but watch out for the rainbows that will send you sliding back down! Two to four players,

ages 3 to 6

.
Fruit of the Spirit, Bible Card Game

This fun and exciting card game plays just like crazy eights! Play the cards in your hand by matching the color or picture. Jumbo-sized cards illustrated with a band of sweet little angels help players learn the fruit of the Spirit from Galatians 5:22, 23.

Show your child that when her heart belongs to God, so do her actions. Inspiralink games encourage children to honor God by obeying his commands. Fun and innovative games teach about God and his Word and help your child's relationship with God flourish. Recommended for 2 to 4 players, ages 3 and up.
Do U Know? Game

A compact game for full-size fun! Turn playtime into Bible-time with this fast-paced family card game. It's similar to Uno, but in addition to matching colors and numbers, players must answer questions about Bible facts, characters, and stories. Perfect for long road trips and rainy afternoons, you'll increase your knowledge of important Bible characters and events, and it's so much fun, you kids won't even realize they're learning! Do U Know? is great for the whole family, especially

ages 5 and up

.
Armor of God

Based upon Ephesians 6:11, this board game teaches children the purpose of each piece of the armor of God and practical ways they can successfully use them or surrender in defeat in their daily lives.
The New Kid's Choices Game

Leaning to make choices can be serious fun! What do you do if you find your sister's diary unlocked? Will you read it? What if the person in charge of handing out lunch tickets gives you too many for the money you gave him? What do you do with the extra tickets? How about if you don't like the clothes your mom buys for you?

Come face to face with some of life's toughest decisions when you play this game with family and friends! This game challenges kids with life-like dilemmas and helps them make the best decisions. They'll also learn how to base their choices on biblical principles supported by verses from the NIV. Recommended for ages 9 and up.
---
The Hem Bible Studies Recommends these
Christian Video Games for Children
Charlie Church Mouse Preschool CD-ROM

Children will love learning while playing this faith-based, interactive computer game! Explore timeless Bible stories that parents embrace and children relate to and enjoy while reinforcing academic skills at the same time. Wrapped up in fun game-play, kids, and parents, will keep coming back for more!

While fun and lovable characters tell powerful tales from the Bible, they teach other lessons that help draw children into the story. Each story teaches a different lesson with three different levels of difficulty to challenge children.

Recommended for

ages 2 to 4

.


VeggieTales Dance, Dance, Dance Game on CD-ROM

If you like to waltz with potatoes...have we got a game for you! All you have to do is plug in the VeggieTales Dance, Dance Dance pad and the fun begins! You can move and grove to your favorite VeggieTales songs!

Each song offers 4 levels of play, creating over 200 different dances! Positive (and silly) onscreen lyrics let you sing along as you dance to the beat. The multiple settings also let you customize your game.

Everything you need to get started is right here. Simply plug the Dance pad into the USB port of your Windows or Macintosh computer, install the game and you're ready to go!
Adventures in Odyssey and the Sword of the Spirit Interactive Game on CD-ROM

In 1881 a man named Peter McAlister discovered an ancient battle sword in a European castle and brought it back to his home in the town in Odyssey. When his children were older, he created a "Gauntlet of Virtues" to test their character and lead them to the secret treasure: The Sword of the Spirit.

Join Whit, Connie, and Eugene in a chase through abandoned mine-shafts and secret passageways. But they must first pass the Gauntlet of Virtues--nine test of character such as honesty, kindness and patience. It's a fast-paced flight through dark tunnels, where every passageway holds another key to the sword's real power, and where virtue itself is in the balance. Recommended for ages 8 and up.
Didn't find a Christian game that fits your needs?