Beauty for Ashes
by Elizabeth Rocquin
(Mississippi)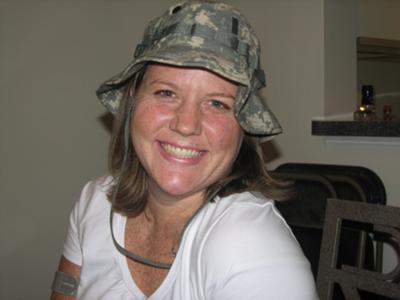 Yes, I am an army wife!!!!
This is Elizabeth's special story of how God gave her Beauty For Ashes.

Date of Entry:July 27, 2008

About me...
I have been a Christian since I was eight years old. I'm now twenty-seven and married to the man that I prayed God would one day bring into my life. While I do not have any children of my own, my husband and I are in a custody battle for his two year old daughter. I taught junior high English for five years, and I'm now embarking on a new, exciting journey - law school. Although I grew up in a Christian home and attended church everytime the door was open, I faced many struggles in my early adulthood that changed me forever. I have learned that while the mountaintop is glorious to behold and experience, the valleys are a place of immense growth and beauty. Therefore, I will always cherish the valleys, for that is when I grow closer to God, my creater, my Father.


Scriptures:
Isaiah 61:3 "To appoint unto them that mourn in Zion, to give unto them beauty for ashes, the oil of joy for mourning, the garment of praise for the spirit of heaviness; that they might be called trees of righteousness, the planting of the LORD, that he might be glorified."

Matthew 11:28 "Come unto me, all ye that labour and are heavy laden, and I will give you rest."



In the Valley: From Victim to Survivor

Growing up, I was a devoted Christian girl. I started the Bible club at my junior high school. I was the president of the Bible club at my high school. I was on the church's student leadership council, in the youth choir, a Christian skate night counselor, a Bible study leader, a preschool Sunday school teacher, and a prayer warrior. As the president of the Bible Club, it was my duty to promote the "True Love Waits" campaign at our school. I was an advocate for abstinence. More than that, I believed in and practiced sexual purity in my own life. I was saving myself for marriage, and I believed that was the greatest gift that I could ever give to my future husband.

During my freshman year at college, I met Mike. He was a new Christian who was on fire for the Lord. He had only been saved for six months and was a recovering alcoholic and drug addict. For some reason, I was captivated by him. We began dating, and he started pressuring me to have sex with him only a couple of months into our relationship. I told him my belief in sexual purity until marriage, and he seemed to respect it.

Then, on a dark night in May, I realized that he didn't respect my beliefs at all. I was kissing him in his apartment when suddenly he became more forceful and kissed me with greater intensity. Before I knew it, he had me on the bed with my clothes off. I begged him to stop, but he continued. I always thought that if anyone tried to rape me that I would fight, but I was wrong. I was paralyzed with fear. I sobbed for him to stop, screaming in pain and devastation. As he continued, I lay there - a silent shell of a woman, hopeless and frightened. In what must have been a matter of minutes, it was over.

I remember feeling so dirty. I immediately ran out of his apartment and drove feverishly back to my dorm room. I took a hot shower, trying desperately to cleanse myself from his selfish deed. I felt so dirty. I was so ashamed and kept blaming myself for what had happened.

For over a year, I told no one. I had made a vow to only sleep with one man - my husband. Therefore, I agreed to marry Mike. In a twisted view of God's will and my commitment to Him, I continued to be a shell for Mike's desires, laying still and silent as he used my body for the next six months. There were days when I would lock myself in my room, depressed and scared. I prayed for God to intervene, but it seemed that my prayers were not answered.

In January, I was scheduled to go to London for a semester with my college. In December, with no warning, Mike suddenly broke off our engagement. He said that he didn't know why, but God told him that he had to break up with me that day. Although I was confused as to what God's will may be, I knew that this was the answer to my prayers.

I left for London in January and spent the next three months searching for God. At first, I was angry. I didn't understand why he would allow Mike to rape me, after I had spent so many years saving myself for marriage. Over time, the anger turned into bitterness. I didn't understand that God was working in me even then. I quit going to church, quit listening to Christian music, and even quit reading my Bible.

It took months for me to be able to pick up my Bible or sing praise songs again. It has taken years for me to get to the point that I can actually see the good that has come out of my horrific experience. But as I continued to fight and try to flee from God, I kept hearing His still, small voice, calling me back to Him.

Through this valley, I have come to realize that I am not a rape victim. I am a rape survivor. Victims die, either physically or spiritually due to a tragedy. Survivors live through the tragedy and become better people as a result of it. Victims GO through something and don't make it out on the other side. Survivors GROW through something and learn valuable lessons along the way that they can share with others.

I treasure God's promise in Matthew 11:28. "Come unto me, all ye that labour and are heavy laden, and I will give you rest." It is an incredible feeling to fall into the arms of our Father, lay your head in his lap, and sleep peacefully. He DOES give us rest, just as soon as we are willing to go to Him to receive it.

Isaiah 61:3 says, "To appoint unto them that mourn in Zion, to give unto them beauty for ashes, the oil of joy for mourning, the garment of praise for the spirit of heaviness; that they might be called trees of righteousness, the planting of the LORD, that he might be glorified."

BEAUTY FOR ASHES: In the midst of a tragedy such as rape, God really does give beauty for ashes. When I felt that my life was over, and I had lost myself, God showed me the way back to Himself. Out of the ashes, I rose up even more beautiful than before. On top of that, God STILL blessed me with a Godly husband.

THE OIL OF JOY FOR MOURNING: As I was mourning my lost virginity, God was restoring my soul and giving me joy that I had never experienced before. I was crying over what I had lost, while God was teaching me to have true joy and an even more intense relationship with Him.

THE GARMENT OF PRAISE FOR THE SPIRIT OF HEAVINESS: When I felt that I could not go another step, God taught me to throw myself into His worthy arms and praise Him. Through each and every storm, I praised Him, realizing that while He may allow hardship in our lives, He NEVER leaves us to deal with it alone. As I praised Him, I could feel Him draw near.

THAT THEY MIGHT BE CALLED TREES OF RIGHTEOUSNESS, THE PLANTING OF THE LORD, THAT HE MIGHT BE GLORIFIED: Just as a tree grows tall as it is watered, I began to grow spiritually as I watered myself with the Word. More importantly, just as a tree gains its strength as it sways in the wind, I gained spiritual strength as I weathered the storms surrounding my rape. The taller and stronger I get, the mroe I am able to point up to God and say, "HE DID IT!" He is the one that brought me through such dire circumstances. He is the one that gave me the strength to live another day for Him. To God be the glory, because He is the one who gives me a reason to wake up each morning with a smile on my face.

It is because of Him that I am a survivor, not a victim.

Questions it brought to my mind...
1) Why does God allow incredibly bad situations to fall on those who have loved Him and served Him their entire life?
2) What do I have to do to move from victim to survivor, so that God can be glorified?
3) Am I a tree of righteousness, glorifying God in my daily life?


My closing prayer...
Dear Father, I thank you so much for the promises in Your Word. I thank you for giving me rest when I come to You. I trust You, no matter my circumstances, for You have promised me beauty for ashes, oil of joy for mourning, and a garment of praise for the spirit of heaviness. Help me to trust in You always, for You are the only One who has never lied to me, never left me, and never led me astray. I praise You for You are good, and I thank you for your never ending love and compassion. Help me to grow through my valleys and show Your love to those around me. Amen.