Being a Christian Mother
by Rhonda
(Rock Hill, SC)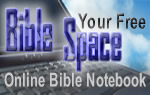 This is Rhonda's Bible study notebook on Being a Christian Mother.

Date of Entry: August 3, 2008


About me...
I am 37 years old and am married with 3 children ages 4, 3 and 1. I am going to begin Homeschooling this year. I have been a Christian since 2000 and attend a wonderful church. I was born in Plattsburgh, NY but raised in Rock Hill, SC. I left SC for a few years after joining the Army and then living in Hampton, GA for a few years. Now my husband and I rent a home in Rock Hill.

Scripture: Proverbs 22:6


My thoughts...
I am having a hard time with "training" my children. I don't want to be so authoritative that my children are afraid of me but I feel that I'm too lenient because I find that I repeat myself constantly. I want to be a Godly mother for my children. I feel like I'm not doing enough even though at night when I go to bed I am completely exhausted.

Questions it brought to my mind...
How can I truly "train" my children? How can I feel like I'm doing the right things for my children?

My closing prayer...
Dear God, please give me the wisdom to be the mother that you chose me to be. I can't do it alone! Help me to enjoy my children more instead of feeling sometimes that they are burdens. I am ashamed to say that but I am lacking in patience with them also. Please give me the strength that I need each new day. In Jesus' Holy Name I pray....AMEN!