Bible Study on James: 1
by Michelle Williams
(Dayton, TX, USA)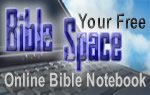 This Bible study notebook chronicles Michelle's Bible study on James: 1.


---
About me...
I had been backslid for several years and I am on my way back to where God has called me. There was a time that I was full of faith and spoke the word. I want to get back to that place, always a song or scripture in my heart. Back to where the word of God is a part of my very being.
I know that He has a calling on my life and I want to do what He has called me to do.
Date of Entry:
April 28, 2008
Scriptures:
James chapter 1:5-8
If any of you lacks wisdom let him, ask of God, who gives all liberally and without reproach, and it will be given to him. v6 But let him ask in faith, with no doubting, for he who doubts is like a wave of the sea driven and tossed by the wind. v7 For let not a man suppose that he will receive anything from the Lord; v8 he is a double-minded man , unstable in all his ways.
My thoughts...
God is not a respecter of persons. If you ask Him for wisdom he will give it to you. He wants us to ask Him. But we must ask in faith without doubting.What is the use of asking if we don't think He will give it to us? That would be like my child asking for lunch money. I give it to him and he lays it on the table before going to school and says, "well I really don't think that she gave that to me that must be for my brother."
Sometimes we don't think we are good enough for what God has for us, even though He has already given it to us. Our enemy throws doubt in to keep us from taking what God wants to give us. We NEED wisdom daily, not just one time. we should hold on to wisdom as jewels. God wants to make sure we ask him for it and not let doubt come in and take it from us.
So we must keep our guard up against doubt!Questions it brought to my mind...
Do I ask God for wisdom on a daily basis? When it comes to decisions in my life, do I use the wisdom God has given me or do I try to do things on my own?
My closing prayer...
Father, you are an awesome, loving father. So Holy and full of wisdom. Forgive me for not using the wisdom you have given me and for letting doubt come in and take that from me. I want to walk in your wisdom. I NEED to walk in your wisdom especially in this day and time. I need your wisdom in every area of my life, my walk, my family, my finances,my friendships.
Lord help me to keep my guard up against doubt and unbelief. Help me in those areas that I am weak. Let you strength prevail. Let your wisdom become a part of my everyday life. I receive your wisdom right now by faith and I Thank You for it.
In Jesus' Name. Amen.