Cassandra's Study on Continuing in the Son
by Cassandra Bennett
(Maryland)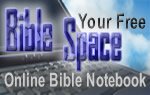 About me...


I am a minister and live the life of being called as a prophet of God
Date of Entry:
Wednesday, July 16, 2008
Scriptures:
1 John 2:24
Let that therefore abide in you, which ye have heard from the beginning. If that which ye have heard from the beginning shall remain in you, ye also shall continue in the Son, and in the Father
My thoughts...
I want to always worship and walk in the calling God has for me. It brings me joy when others see the light and that God uses me to reveal the truth in spirit. I love the Lord.
Questions it brought to my mind...
I want to walk in integrity and I want to really know what would be an effective way of dealing with a person who will not open up.
My closing prayer...
Lord Help me to walk in integrity. Help me to walk in the truth of knowing that You alone are God. Help me Jesus to bring the light to where there is darkness, even within myself. Help me to only depend on You so that when it comes time for me to witness, I can bear witness of the Truth.
In Jesus Name
Return to Your Bible Study Notebook.