Christian Maturity Bible Study Questions
by Carrie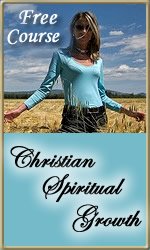 Christian Maturity Bible Study Response:


I consider myself some what mature. Humility to me is being humble content, lowing myself to being a servant example washing feet, meek calm gentle controlled i do believe that we still need to use the beatitudes in this world today amen
About Me
My name is Carrie i gave my life to Jesus Christ when i was 10yrs old. When i was 16 i strayed away. I fell in love and thought i could show him Christ, but instead i allowed him to show me the world.
I rededicated in 2003 after getting remarried in 2001. Now my whole family has rededicated their lives and we all are active in our churches.
My husband took a leap of faith at the beginning of this year and our family has grown spiritually cause he took a closer walk with God as for me and my house we will serve the Lord Amen!
I am keeping this short cause like many of others i am so blessed that i could go on for hours,days years about what all my Jesus has done for and i am so excited about what he is going to do.
God Bless You All
---
Want to learn more about Christian maturity? Read The Hem's Free Beatitudes Bible Study here!
Return to The Spiritual Growth Online Bible Study Group.