The Christian Single Mother
With Your Bible Study Leader
Adrienne Broussard
As for me and my house, we will serve the Lord
Joshua 24:15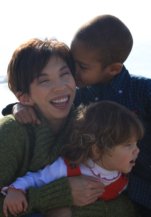 Adrienne Broussard:

The
Christian
Single Mother Bible Study Leader

Welcome to Our
Christian
Single Mother Online Bible Study Group!
Are you a Christian single mom looking for a bit of Biblical encouragement and direction?
Just because you are single doesn't mean you are in this life all alone! This free online Bible study is written by a single Christian mother for single moms just like you. It's here to help you open the door to the Lord as you Partner in daily life.
A Little Bit About Me...
Thank you! Thank you for allowing me to have a few moments to introduce myself.
Above all else, I am a child of the most High God! I am also a woman and a mother to two beautiful children. I love life and I have a passion for it that burns brighter every single day. I strongly believe in searching, discovering and then walking in our purpose.
I would like to take a moment to expound briefly on my background and what brought me to this amazing place with the Lord.
I joined the United States Navy in June of 2003 (at the time of 'Shock & Awe' for anyone who may remember such a time following the horrific 9/11) I went on to proudly serve for 7 1/2 years. I served for 2 deployments and countless sea exercises.
I did experience major life events and bitter sweet endings throughout my service. I also experienced some of the most difficult hardships I have ever endured in my life. While being on active duty I became a wife, mother, divorcee and then (single) mother again (all in that order) while simultaneously serving on board the above mentioned stations.
Looking back on my service (I honorably separated in February, 2010) much of my pain and misery came from the constant separation from my family. I believe that the initial onset of pain and remorse was when I was called to duty one week before my son was to turn 4 months old. I was immediately flown to the Middle East in order to fulfill our mission.
In the midst of all of these overwhelming demands, I was held captive to a bondage that nearly took my life and cost me my two children--- alcoholism.
The Lord brought me to a place of divine intervention followed by the biggest storm of my life (cleaning up the wreckage of my alcoholism).
Since this time, I have been restored beyond imagination. A miraculous redemption from the ultimate pit of losing everything. Just as the Lord says, "'But I will restore you to health and heal your wounds,' declares the Lord, 'Because you are called an outcast, Zion for whom no one cares.'" (Jeremiah 20:17 NIV) He has remained faithful to me in His undying Love.
I am a living testament to the extreme grace and mercy of our most High God! I desire to help others come to know that abundant blessing waits for everyone, who chooses to seek Him! Here at The Hem Bible Studies I passionately desire to share my experience, strength and Hope as a Christian single mother.
About Our Christian Single Mother Bible Study Together:
My passion is to reach single parents, specifically mothers, in order to serve them in any way I can, and to help them come to know our ultimate
co-parent
, Healer and Lover of our souls.
I would like to share with you what I believe our Father, maker of Heaven and Earth, might say to us during these trying but ultimately rewarding times:
My child, I am one with you. It is I who will carry you. I did not intend for you to raise a child by yourself. But it is by yourself that I will shine in the darkness. Sweet beautiful child, do not become distracted and come to me when you are weak and weary. I will show you that, I AM. And if you put your home into me, I will restore it more than you ever dreamt possible. Your children will come to know me, they will be set free. Your home will know peace. Your footsteps will know grace and your lips will know sweetness.
Come my child, do not let these burdens of the world weigh you down so that you have no more step left. Place them on me child and I will take them up with my cross and together we will fulfill your home.
I look forward to serving each and every one of you.
Until next time, Warm regards & Many blessings,
Adrienne Broussard
---
This Form is For Adrienne Broussard's Use Only.

This form is what Adrienne, your Single Mom's Bible Study Leader, uses to submit your lessons.

To participate in the discussion, you'll be given a separate form after each Bible lesson. We look forward to reading your thoughts there.


Adrienne, What would you like to share?