Calling Christian Writing Hopefuls
and Anyone With Godly Wisdom to Share:

Share God's Word and Get Exposure

In Your Very Own Christian Column!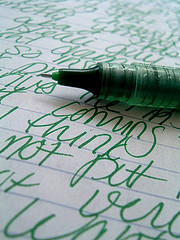 I have a Christian writing opportunity for you!
A chance to share what God has put inside of you with the entire world.
In just about
90 minutes a month
, you could be a part of taking over the internet for Jesus!
Thousands of people visit the Hem of His Garment Bible study website every single month. But, I can't do it alone. More Christian writers are needed to help share the truth with all those that God sends.
Literally thousands of people come here each day looking for a word from the Lord - And you could be the one to share it with them!
---


Why Become a Christian Columnist Here at The Hem?
It's like having your own personal Christian writing website for FREE!


You will have your very own corner of the site dedicated exclusively to your Christian writing.
You can include as many pages in your column as you would like to write - There are no limits.
Are you an aspiring writer?

Having your own personal column at the Hem will give you great experience and exposure!
Your column will include your picture and bio presenting you as a professional and an expert.
A link to your column is a great way to prove to prospective writing jobs that you are a professional.
You have an official title which gives your writing experience more weight with potential employers.
This is your chance to make an impact for Christ.
Your Christian writing will be read by people all across the globe.

You will be able to inspire people and help them live for God.

Your readers will be able to respond to what you write and share how it is helping them in their daily lives.

Promote your book or website!
If you have a book, eBook, or website, you can promote it for free from your column using direct links.
Boost your traffic and sales by redirecting some of the traffic from The Hem to your own website, blog, or sales-page.
You can include one link back to your personal website/blog AND one link to any books that you have written in your personal bio.
---
What Do You Do?
It is really quite simple. Christian writers are needed to share God's Word online.
Here is a bit of a description:
Your Title:

Online Bible Study Leader

Note

: Don't be intimidated by the title Bible Study Leader. Even though The Hem is technically a Bible study website, I am not looking for traditional Bible studies. Just

articles on applying the Bible to everyday life. Nothing theological - Just natural and practical!
Your Mission:

Here are a few great examples of Christian writing columns!


Christian Priorities: Back To The Basics of The Bible
Building Real Christian Marriages: Making the Master Proud
Up...Up...And Away Free Bible Lessons for Children
---


How To Apply
The application process is pretty simple.
Complete the application below.
Submit one sample piece of Christian writing for review with your application (Click here to read a good example).
Please follow these submission guidelines for your writing sample:
The article should include a minimum of 2 scripture references (include book, chapter, and verse).


It should be between 500-900 words.


It should not be theological, but practical and natural in your own style of writing.


The article should end with a question that promotes reflection.
TIP:
Try to include a few personal or real life examples in your article.
Please Note:
Applications without a sample article will NOT be considered.