Christian Worry and Fear
by Katherine Mikshenas
(Canton, ME, USA)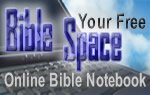 Here is Katherine's Bible study on Christian worry and fear: The Comfort of His Hand

Date of Entry: June 30, 2008

About me...
I am a Christian Inspirational writer, called by God to share my own experiences to encourage and uplift others. I have been writing for most of my life. I am a member of the Sonrise Writers Online writing group. I have co-authored an e book, Christ's Light In and Beyond Us.

Scriptures: Isaiah 66:13; 1John 4:18; John 14:18, 27; Ephesians 3:20, Amplified Version


My thoughts...

The Comfort of His Hand
"As one whom his mother comforts, so will I comfort you" Isaiah, 66:13, (Amplified Version)
When I was just a child I often took walks with my mother. Sometimes we would walk through the center of town to do various errands. As we would get to the corner of a busy street, I felt the warmth of my mother's hand. She would hold my hand tight as we crossed the street. Even though the cars looked like giant monsters, I felt safe. I knew she would take care of me.
The world has changed since I was a small child back in the 1960's. Our soldiers battle the agony of war in Iraq. America holds her breath with the threat of terror lurking in the air. Things that were right appear wrong and things that were wrong appear right. The newspapers are overflowing with stories of evil. How can we be sure that we are safe?
The root of evil is fear. Evil thrives on fear. Fear is false evidence appearing real. God is truth. God is love. "There is no fear in love (dread does not exist), but full grown (complete, perfect) love turns fear out of doors and expels every trace of terror!" I John, 4:18, (Amplified Version). God reaches out His hand to us. Like little children we can hold on to His hand and know we are safe. Darkness cannot consume light. One candle can light a dark room. We are God's children. Therefore, we do not live in darkness. God's light shines upon us. God's light gives us hope.
Jesus tells us "Do not let your hearts be troubled neither let them be afraid" John 14:27 (Amplified Version). "I will not leave you as orphans (comfortless, desolate) I will come to you" John 14:18 (Amplified Version). He stands at the door to our hearts and knocks. If we open our hearts and heed His voice, we can know we are safe. No evil can exist in God's perfect love.
We live in perilous times. We can place our hope in God. He is our Shepherd. He leads us beside the still and restful waters. His rod protects us. His staff guides our steps in comfort. He will never leave us nor forsake us. God is our refuge and strength. He is a very present and well proved help in trouble. Let us be still and not be afraid.
God sends His angels to us. We can call on them at any time. They will place a hedge of protection around us. We are never alone. God gives us hinds feet to stand firmly on the dangerous heights of trouble. He places us securely on high places above the floods of evil. We are safe in the cleft of His rock. We are safe in the palm of His hand. Let us be still and not be afraid.
What about worry? I spent many years of my life carrying burdens of worry. Worrying did not change any situation. Worrying just made me develop a serious condition of anxiety. Anxiety feels like you are out in a blinding snowstorm. Sometimes the fierce wind of anxiety can take your breath away. God does not want us to carry the burden of worry. God wants us to give Him all of our cares. As God watches the sparrows and dresses the lilies, God watches over us. Let us hold His hand and rest in His love.
What about money? How will we continue to pay all of our bills and put gas in our cars? God promises to supply all of our needs. "God is able to do superabundantly, far over and above, all that we ask or think." Ephesians 3: 20, (Amplified Version). God's plan for our lives is for good and not for evil. His plan is designed to give us hope and success. If we give God our trust He will direct our paths and we shall not lack.
Hope is belief in things we cannot see. If we hold onto God's hand, we can believe that all things are possible. God will never let go of our hands. God will never give up His dream for our lives. Let us receive the comfort of His hand and know we are safe. Let us be still and not be afraid. God is with us. We are never alone.
Questions it brought to my mind...
How can we feel safe in the chaos of this world? How can we know that we are loved and not feel that we are alone?
My closing prayer...
Dear Heavenly Father,
We cast all of our cares upon you, for you care for us. Let us be still and know that you will take care of us. Let us not be afraid. Let us place our hopes and trust in you. You are with us. Let us hold your hand of comfort and rest in your love. In the Precious Name of Jesus, I pray.