Check Your Email...
Y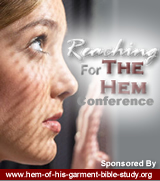 ou're almost finished siging up to receive your conference updates! But, you still have one more step to go.
I've sent you a short email requesting that you confirm your registration. This is to keep everyone safe from SPAM.
Email Subject Line:
Free Christian Conference Updates, Confirm Your Request
Simply open the message,

click on the confirm link

and your registration will be complete!


Also, be sure to

add me to your address book

: . That will ensure that you receive your confirmation email and don't miss out on the event.
I look forward to chatting with you again soon!
God Bless!