Dark times, but Gods light is always beating it back
by Mike
(Iowa)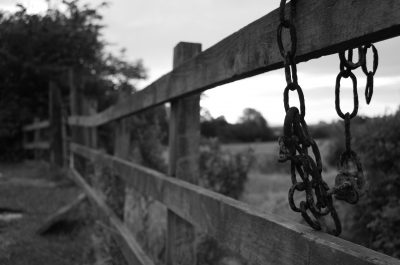 Chains by Nicholas Tarling
I don't know where to begin and my life story could be a web-site of its own...I grew up with a mother who self admittedly didn't want me. She left my father when I was two, after meeting and having an afair with a man who would eventually become my very abusive step-father until after I left home for the military. There were so many times that I was kicked, thrown, pinched with pliars, and even urinated on that I cannot count. All the time, my mother would sit in her chair and drink her pop and smoke her cigarettes. I was told how worthless I was and upon enetering high school, my step father would never again call me by my name, he would only call me "geek". My father, whom I only saw 2 weeks out of the year, lived in California and was busy working on his very successful TV career. I then became the oldest of 5, all of which were children my mother had with my step-father. By the time I was a senior, I was working over 30 hours a week and providing food for my siblings and paying the bills for the home, as neither parent worked. On the day of my 17th birthday, I was told that I will either join the military or would be homeless as I was not welcome in the home and was too stupid to get loans/grants for college. I joined the Navy and left less than 2 weeks after graduation. I had been to church a few times and recall that I wanted to be saved, but didnt know how...but I didn't give up and knew that I loved God. I should probably tell you that I never got in trouble, was always home by curfew, only drank one beer in all my life by that point, didnt smoke, etc. I was a "good" kid, but unworthy of love. After joining the Navy, I began partying. Every weekend and most nights of the week while at home port, I would go to clubs, bars, use my fake ID to buy liquor, drink and drive, whatever. Overseas was no better. I would pay for sex, stay drunk, had no direction to God. I then met my future wife when I came home on leave. I had never felt love before and after a few dates, thought I knew then what love was and thought I was recieving it.

Unfortunately, it took me over 12 years to realize that what I had here in the natural was not love...I recall after only being married a year, my wife and I were sitting in a restaraunt and she became irrate over a tomato. I had just been conditionally offered a position of employment with a small city and wanted to be accepted. I recall telling her not to let a tomato make her so mad and yell. She told me where to go, threw my car keys at my face and walked out. I should have known there.

Try to make a long story short. During our 19 1/2 year marriage, we had 4 children, one of whom became sick and lost a kidney, had a heart condition etc. I love my children. I have always (erronously) put them first in my life. God should have been and I recall hearing Him cry for me. After afairS, verbal insults and mockery of my suicidal ideations and plans, and telling my daughter that she wished she had not been born and threatening to kill her, my wife finally walked out on the 5 of us, moving in with a convicted felon, known drug dealer in our town. After going through denial and the other phases of grief, I met a lady who made me (unknowingly) put all my faith in God. Now it hasnt been without struggles...

I filed for divorce a month later and after another 8 months of threats, attacks and harrasment, my divorce was finalized. In our state, the courts try to award joint shared cusdtody, unless there is belief it is detremental to the children. During the court proceedings (Valentine' day this year) my ex told the court what a wonderful and loving father I was and that she knows my children need their daddy. I cried. I should have thanked God, but I failed. Now, in the last week, she has went to my pastor's house, took my children, and filed a no-contact order against me, prohibiting me from even speaking to my children. I lost hope. I just "knew" that it was over. Even as my friend sat by my side and reminded me over and over that God loves me and will not let my children be taken from me or harmed, I just "knew" that I had done things in my past that this was punishment for. But this is NOT of God. I have had many hours of crying and have prayed quite a bit, but not enough. I KNOW that God will vindicate me and will use this to make me stronger in faith.

I have prayed for what I would call silly or non-essential things, such as my TV coming back on, when I "knew" it wouldnt. I just thanked God for making it...prayed as it already came to pass and within seconds, it did. If God will help you with a TV, just imagine what He truly wants in your life and will do. Psalm 107:28-29 (New King James Version)

28 Then they cry out to the LORD in their trouble,
And He brings them out of their distresses.
29 He calms the storm,
So that its waves are still.

It would be easy for me to sit here and say, we'll see what happens, that what I find myself doing and the enemy feeds on that. What good comes from worry?

26"Look at the birds of the air; they do not sow or reap or store away in barns, and yet your heavenly Father feeds them. Are you not much more valuable than they? 27Who of you by worrying can add a single hour to his life? 28And why do you worry about clothes? See how the lilies of the field grow. They do not labor or spin. 29Yet I tell you that not even Solomon in all his splendor was dressed like one of these. 30If that is how God clothes the grass of the field, which is here today and tomorrow is thrown into the fire, will He not much more clothe you, O you of little faith?" Matthew 6:25 - 30

I AM cured of depression, suicidal thoughts, feelings of unworthiness. We all are if we just give it to God and believe. I know that I still have court on Monday, but I will get my babies back. I just want to publically thank my God for loving me, regardless of what I have been told all my life, by those closest to me. God is a loving God, is a righteous God, cries for you when you hurt, blesses you multi-fold when you have faith in the midsts of the storm. Praise God!