Fasting for God Bible Study:


How Christian Fasting Can Change Your Life!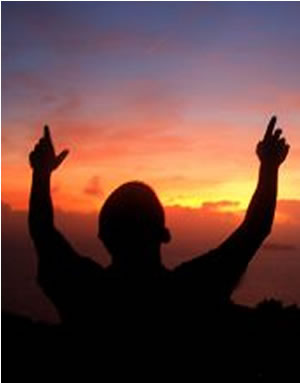 Most Christians have never experienced the power that fasting for God can unleash in their lives.
They have needs in their lives that are crying out for a time of total surrender and consecration, but they think that Christian fasting is something that was only done in the Bible, or that it's power is reserved for the "ultra-holy."
So they miss out on their breakthrough, and live their lives constantly below the level of victory to which they are called.
What many don't understand is that fasting for God is specifically created to transform the life of ordinary Believers
extraordinarily!
So, in this lesson, we will explore just two of the many ways that fasting can impact your Christian walk.
Christian Fasting Opens You Up To Hear From God
One of the most common questions that I receive from Christians across the globe is,
"Ameerah, how can I hear God's voice?"
Hearing God's voice in your daily life is not only available to every Christian, but it's
VITAL
to your spiritual survival!
Your Heavenly Father has specific plans for you, "They are plans for good and not for disaster, to give you a future and a hope." (Jer 29:11 NLT)
But, how can you know that you are following God's plans if you can't hear Him speaking directly to you?
When we are fasting for God, it opens us up to hear His voice speaking to us. Let's look at Moses' example:
This happened when I was on the mountain receiving the tablets of stone inscribed with the words of the covenant that the L
ord
had made with you. I was there for forty days and forty nights,

and all that time I ate no food and drank no water.

"At the end of the forty days and nights, the L
ord
handed me the two stone tablets inscribed with the words of the covenant.
~ Deuteronomy 9:9 and 11 (NLT)
It was after Moses' fast that He was given the 10 Commandments - Words from God that not only blessed Moses and the Israelites, but millions of people over thousands of years.
Moses received that word from God because of His obedience and surrender to God through fasting.
Fasting for God helps you to hear His voice because: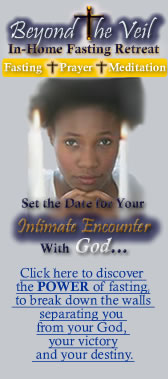 Fasting quiets down your life!

Often times our lives are so loud that, even though God is speaking, we can't pick out His voice. It takes us getting quiet and focusing on Him to be able to tune out the world and hear His still small voice.



Fasting quiets down your flesh!

As I explained in the Beyond the Veil In-Home Fasting Retreat, this is a biggie! Believe it or not, your flesh doesn't want you to hear from God. Why? Because it wants you to do what IT wants to do, not what God wants you to do.

That's why when your flesh is piping up, your focus is always on

God hearing YOU

- Not on

you hearing GOD

.
Our flesh can not only get in the way of us hearing from God, but can stir up fear and doubt that stops us from following through on the revelations we do hear, and receiving our breakthrough.



Fasting helps you renew your mind!

God Word tells us, "Do not be conformed to this world (this age), [fashioned after and adapted to its external, superficial customs], be transformed (changed) by the [entire] renewal of your mind [by its new ideals and its new attitude],

so that you may prove [for yourselves] what is the good and acceptable and perfect will of God, even the thing which is good and acceptable and perfect [in His sight for you].

" (Romans 12:2 AMP)

When you renew your mind you will begin to know God's will for your own personal life!
There is no better way to renew your mind from the world's way of doing things than to take time apart from that world, and focus on God and His Word!


Christian Fasting Can Help You Receive Spiritual Breakthrough!
"
Jesus...rebuked the unclean spirit, saying to it, You dumb and deaf spirit, I charge you to come out of him and never go into him again.
...it came out; and the boy lay [pale and motionless] like a corpse, so that many of them said, He is dead. But Jesus took [a strong grip of] his hand and began lifting him up, and he stood.
And when He had gone indoors, His disciples asked Him privately,

Why could not we drive it out?
And He replied to them,
This kind cannot be driven out by anything but prayer and fasting.
"
~Mark 9:25-29 (AMP)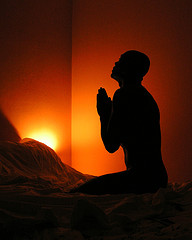 If we read Mark 9 in it's entirety, we see that the disciples had been praying, trying to set that young boy free. But, they were missing something...
Then, Jesus reveals an important truth to His disciples, and to us all:
That there are some bondages that we struggle with in our lives that can only be broken through prayer and fasting - PERIOD.
We see it over and over again in scripture: Believers who, in the midst of terrible circumstances, fasted and received a breakthrough!
When several forces had joined up against Jehoshaphat, and the people of Judah where in grave danger, what did they do?
"Jehoshaphat was terrified by this news and begged the Lord
for guidance. He also ordered everyone in Judah to begin fasting. ..."Listen, all you people of Judah and Jerusalem! Listen, King Jehoshaphat! This is what the Lord says: Do not be afraid! Don't be discouraged by this mighty army, for the battle is not yours, but God's. Tomorrow, march out against them. You will find them coming up through the ascent of Ziz at the end of the valley that opens into the wilderness of Jeruel. But you will not even need to fight. Take your positions; then stand still and watch the Lord's victory. He is with you, O people of Judah and Jerusalem. Do not be afraid or discouraged. Go out against them tomorrow, for the Lord is with you!" ~ 2 Chronicles 20:3, 15-17 (NLT)
I've heard many Christians quote that Bible verse, "The battle is not yours, but God's". And, yet, they don't reference
why
the Lord was going to fight on their behalf.
It was specifically because they had surrendered themselves through prayer and fasting for God.
If we want the same results in our lives that we see in scriptures like these, we have to do the same things that they did. We can't expect the promise if we do not take part in the act of surrender and consecration that fasting for God represents.
Christian fasting is not something that we do to get something from God, it is what we do when we want to totally give ourselves over to Him.
It is an act of total surrender to our Lord that opens us up to receive all that He has in store for us. If you can feel God drawing you to surrender to Him through fasting, DON'T PUT IT OFF! Step out on faith and follow the leading of the Holy Spirit.
If you need more guidance in planning a fasting experience that will truly usher you to the throne of God, The Hem's In-Home Christian Fasting Retreat can help you have an intimate encounter with God that will transform you from the inside out. It helps you combine fasting, prayer and scripture meditation to open yourself up to God in a special and powerful way
.
Fasting for God: How Christian Fasting Can Change Your Life
Bible Study Reflection Questions
In this lesson we talked about how fasting can quiet down your flesh so that you can hear from God. Do you think that your flesh may need to be quieted down a bit? Why or why not?


I stated earlier that our flesh keeps us focused on whether or not God is hearing us instead of whether or not we are hearing God. Have you ever fallen into this trap? Why or why not?


In Mark 9 we see that the disciples have prayed for someone to be set free, but to no avail. Jesus explains that this is because certain bondages only break through prayer AND fasting. Can you think of any bondages in your life that may require fasting for you to break free?