Following God's Leading In Ministry
by Gwenyth Santagate
(Douglas, MA)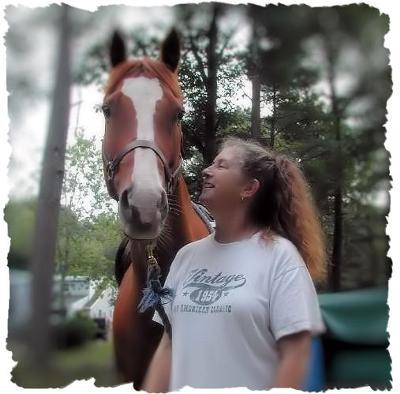 Me and my new spiritual partner
I know that God has led me into leading a Women's Support Ministry BUT ... its a bit unusual as the lessons we learn will be enhanced and strengthened with the assistance of horses.


Over the years of working with women and horses in a more secular manner I've found that many, without my saying a word about Christ or Salvation, have come to know Jesus in a VERY personal way that has become life changing for them.
I feel now that God wants me to offer more "formal" classes/programs/support and through looking here in this awesome website I've found a few things that I feel would be so beneficial for the women who will be gracing our farm each week. There is SO much here that I am praying that God will let me know just where to start first.
I feel for women who have, as most do, self esteem issues, identity issues, boundary issues, abuse issues and more.
You know ... the kids have grown and left home; the hubby is involved and tired in his lifetime of employment and the wife is left with, "What NOW!?!?!? What is my purpose NOW?"
Many want to fulfill their lifelong dreams of horsemanship or return after many years of taking care of family etc. The two, horsemanship and Christian ministry seem to go hand in hand as God reveals His Unconditional Love, His strengths, His counsel and most of all HIS GRACE, through the horses somehow. I, of course, have absolutely NO idea how He does it but He manages in spite of my lack of "knowing". (and simply, in spite of me! :)
I have 36 years of knowing, loving, seeking Jesus and relying upon Him and my Heavenly Father which I am able to share with these women on a very informal yet intimate basis but have no "formal" education as to counseling or ministering (other than listening, praying and supportive scripturing) and feel that perhaps I need to find an outline and guidance as to how to go forward with greater steps and more formal "education". (if this makes any sense?)
Anyone who might be able to offer some support/suggestions/prayers/insight/INSTRUCTION for me in my quest forward with this path that God has laid before me is MOST WELCOME. I thank you, in advance, for your prayers as I know they will come to me with love and strength and the spritual "knowing" of what to do that I need through the secret wisdom of the Holy Spirit in my heart.
Bunches and bunches of Blessings and Grace to you all. :)