God Bless you Ameerah
by Sandra
(Puerto Rico)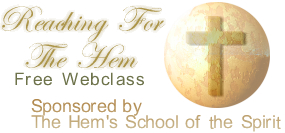 I thank the Lord for leading me to your site. I wasn't sure what I was looking for. I needed to connect with my Savior. I was looking for free on-line bible courses and was led to your site and I know that Christ led me here.

For now I can only participate in your free classes but I feel for now it is enough. Something inside of me has been touched by your words.

I have downloaded most of your e-mail courses and gone through most of your site. There is so much to learn.

But of course the highlight of the site is your free teleclass.

I am looking forward to the April class.

Thank you again Ameerah and God Bless.

Sandra

Enroll in the Hem's free Reaching for the Hem Class: Reach Out and Connect With God for yourself!
Join in and write your own page! It's easy to do. How? Simply click here to return to Free TeleClass Testimonials.