God's Helping Hand: Fergus' Testimony
by Fergus Davar
(Mumbai, India)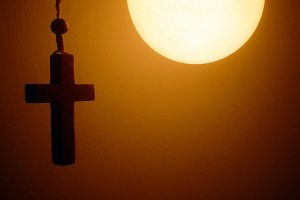 Hi, my name is Fergus Davar. I would like to tell whoever reads this about how I turned to God after I realized what He has done for me. There are two instances in my life where I know I have seen God supernaturally helping me out and I stand as witness to them both.

It was my second year in junior college. I did not study at all; in fact I used to be more interested in other things than in my own studies. I failed that year because I failed in Physics, Chemistry and Math. I do not remember crying during my failure but I was really depressed & I cried out to God to help me out.

I worked hard for my second attempt. My parent somehow managed to set me up for private tutoring and the tuitions were expensive. The tutors we got were not worth the money. They had not even completed the study portion, despite me putting in late nights for study & attending lectures practically every day. At the time of the exam I was only prepared for only 60 marks out of a 100 marks paper. I would cry out to God every exam day because this second attempt of mine was where I put in the hardest work that I had ever put in my entire student life.

Each subject had two exams. Physics & Chemistry went well enough for me to make it through. But Math I, which was supposed to be easy, went very hard. It was the paper I was supposed to score good marks on to help me make up marks as Math II was tough.

I came home and cried. I felt that I would lose another year in spite of working hard this time. I cried, prayed and studied continuously. I prayed saying God I will not give up. I will not give up, and if I do fail, I will study harder.

I then slept that night for only two hours. While sleeping, I opened my eyes at one time and I saw a light far away from my window. It was traveling fast and coming to me. It soon hit me while still in bed. It was green in colour and this light was all around me. It felt like a shock from within. I then fell back to sleep.

I got up that morning. I felt different, confident of the exam. I was studying my stuff with greater ease. I finally gave the Math II paper that day and it went so well that I even got excited during the paper. Even though I made a few careless mistakes in the excitement, I made up enough marks in Math II to just pass in Math. This is how I have cleared my second year...with God's help.

The second miracle I witnessed was when I had just finished my pre-lims for my final year in college. My dad's uncle came down from the UK; he was a national boxer during his time, so I wanted him to help me in my boxing I had been doing.

The thing is that he had come down with his wife and 2 of his 6 daughters, who were married and even had children. I fell madly in love with the younger daughter (just because she was attractive and showed me more than she should have). I was so badly infatuated by her that even when she went back, I used to write to her and even phone her. She led me on as well.

My parents were the only ones at first who knew about it. There used to be fights daily at home with my parents trying to drum sense into me, but I was convinced she was meant for me. The reason I was convinced was because a few months before meeting my uncle's family, I dreamed I met a foreign woman in my Grandmothers house & that house was precisely the place where I met my uncle's family.

I even asked God to give her to me. For that, I would serve Him for a year. But, even if God would not give her to me, I would still serve Him for a year. So I volunteered in Asha Dan (a home run by Mother Teresa's nuns that dealt with diseased street people). I used to give the people in the men's ward a shave and cut their nails (hand and feet). I used to think about her so much that I was dreaming that she was having affair with other men then I even suspected that the best of my friends were involved with her.

It was during this time that many a times I saw the crucifix with Jesus hanging from it appeared on my wrist of my right hand, formed by my own hair and veins. This was no hallucination as I even showed this to my mom and she saw exactly the same thing to the very same detail. Its not that I recovered from this because very soon I dreamed that she was gang raped and killed. I was leading my self to destruction. I then dreamed that I seen both her and her sister in heaven ... I was going mad and started thinking myself to be an angel.

It is with a lot of love and endurance from family and a very few friends that I came out of it after about 2 years. It is only when I recovered that I had realized what I had been through. It was as though someone (took away) / shared my pain.

Yes I know that my family did go through a lot of pain too, but I believe that Jesus died & paid the price for my grave sin of craving for a married woman. I believe that it was Jesus who strengthened and made my family more understanding. Before this incident, many times I have been asked to leave home because my parents would say that I was the cause for all the fights at home. But, after this incident and my recovery, I wanted to leave home, (go into the villages and preach the Gospel for I had learned that Jesus was real, was God's son, was God & was really our Saviour) but then my parents cried and even fought with me to stay with them.

I have learned through all of this that God truly loves us. Even the love we get from a fellow brother or sister, that love too is sourced from God. The greatest symbol of God's Love is the sacrifice of Jesus for our sins that we as a people have brought on our selves. For the love of us His people, God gave up the most precious thing that was His, and that is His own Son Jesus Christ.

I believe that Jesus died because God is just & at the same time loves us infinitely. His justice needed the price of sin to be paid, which was death. His love for us, made His own Son Jesus pay that price for us.