Healing
by Debbie Mckenzie
(Chicago, Illinois)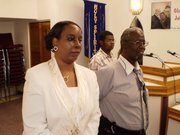 Blessings once again. My goodness, I could give a number of testimonies here, but the greatest of all is when Jesus saved me and chose me to do a work in the Kingdom. However, the testimony I would love to give is of healing and deliverance of Rheumatoid Arthritis. The reason why I chose this testimony, is because Rheumatoid does not have a voice as Cancer, Lupus, Multiple Sclerosis, Fibromyalgia, etc. Rheumatoid is often looked at as an old person's disease or one who is coming of age. Just to give a little information, Rheumatoid is an auto-immune disease that attacks not only the joints, but organs, tissues, arteries are affected as well, there are babies born with this and young people with this debilitating disease known as Juvenile RA. Three years ago I was diagnosed with this disease (and no I'm not old).


Anyhow, when this disease hit my body, it shut down my entire body, my shoulders, arms, wrists, feet, knees, were all swollen and in excruciating pain, I could not ever set up, to go to the bathroom was painful because I could not even bend my knees to sit down on the toilet. I was bed ridden, my left wrist was immobile and I couldn't use my left hand, to walk up and down stairs were terribly painful it affected my glands that I couldn't swallow, I lost the sound of hearing for a couple of weeks, I wasn't able to go anywhere. Talk about the inconsideration of people especially the church, I was made to feel guilty just for going through, I was rebuked told I had no faith, My God!. I cried a many of nights, never letting the family see me cry. When they came around I rushed for the bathroom and washed my face acting as if I was alright, I would cook and clean in pain but never ever asking the Lord, "Why me or why did I have to go through this". I would be telling a lie
if I told you there were no days where I got weak in faith, angry and frustrated but never at God. I kept speaking the word of God over myself and in my situation even when others were criticizing me for not walking in faith, they didn't see me at home praying and crying out to God and seeking him through it all, I refused to allow RA to bind me, I refused to be bound to a wheelchair, a crutch, walking stick or cane. By faith, I held on to God's hand and trusted him never giving up. Today, three years later I have been delivered and healed of RA. I have regain strength in my left hand and whole usage, I can clothe myself in which my daughter had to help in times past. My knees have gained strength and I can now walk up and down stairs without pain I can do things as before all because of the grace of God, and because I trusted him.
Anyhow, I wanted to use this testimony to bring hope and encouragement to them who are struggling with RA and any Autoimmune Disease. Doctor's told me that I could not be healed from it but they would teach me how to manage it. Well I am living proof that when you trust in Jesus what is impossible with man is possible with God. I chose to trust, and never had to have injections, surgery, or medication other than Ibuprofens. Look at God!!, I am blessed by the grace of God, because he never allowed me to be crippled. Yes you can be cured of RA, if you trust and believe in Christ Jesus. I hope this will bring hope to someone who is going through RA, because I know the devastation it can have. It may not be a dynamite testimony as being healed of cancer, but it means a lot to me and I am grateful to God for healing me, that I may bring healing to someone else.