Hearing From God:
Recognizing His Voice in Our Every Day Lives

With Your Bible Study Leader

K.B. Bennett
My sheep hear my voice. They know me, and follow me.
(John 10:27)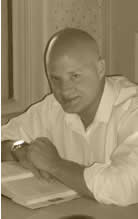 K.B. Bennett:

Hearing God's Voice
Bible Study Leader
Welcome to Hearing From God!
In what ways do we hear God's voice? We hear from Him through His Word; the Bible. We hear from Him by His still, small voice through the Holy Spirit. We hear from Him through other people. We'll explore all of these media and more.
I am excited to be leading this study because God's voice is our guide in life, a gift beyond measure.
As a Christian, you really
can
experience hearing from God as He speaks into your every day life.
About K.B.
My name is K.B. Bennett, a Christian writer from Lancaster, PA where I live with my wife and two beautiful daughters. My writings have included several novels (see my website at
www.kbbennett.com
), contemporary church dramas and screenplays.
When not writing, I love reading, history and music. I have written and directed two short films and have more planned for the future.
But we're here to discuss hearing God's voice, so let's saddle up.
---