I Have Not Let God Take Control of My Life
by Valerie Murray
(Madison, IN USA)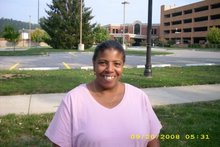 Valerie Murray
I have learned that I am still trying to fix things in my life myself. I still have the "I" mentality in which I believe I can only fix things myself.

But, praise God for your awesome teaching!

I can not change myself. God is the only one who can change me. There are so many areas in my life which need to be fixed. I must lay myself at the altar of my God. I must surrender myself to Him and allow Him to begin to fix what needs to be fixed within me. I do not have the power nor the ability to do so.

I thank you that now my eyes have been open to the truth. The devil has had me thinking that "I" must fix myself before going before God. You my sister have taught me otherwise.

I am to "come to God just like I am."

Your teaching has opened my eyes. Your teaching has spoken to my heart and soul. I thank you and I thank God for you.

God bless you and I look forward to your next teaching.

Enroll in the Hem's free Reaching for the Hem Class: Reach Out and Connect With God for yourself!
Join in and write your own page! It's easy to do. How? Simply click here to return to Free TeleClass Testimonials.