John 8
by Rheann
(Kentucky)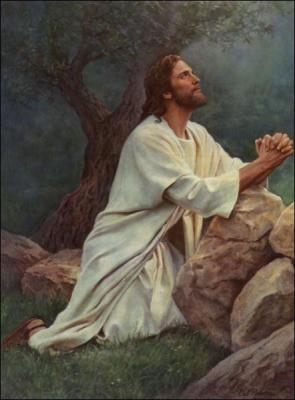 Jesus Christ in Prayer
[This Bible Study Notebook chronicles Rheann's Bible study on John 8.


About me...
After 32 years of living in terrible sin, I have finally come to God to love Him and learn about Him and I dedicate my life to Him...As a sinner saved by grace, I pray that someone will find my thoughts and prayers of good use.
Date of Entry:
March 18, 2008
Scriptures:
John 8:10....."Woman, where are those thine accusers? Hath no man condemned thee?....
John 8:11 - ..."Neither do I condemn thee: go, and sin no more.
Ephesians 6:11-18 Put on the whole armor of GOD!!!
Read John 8:1-20 (at least for today...the whole book is about Jesus and it's wonderful!)
My thoughts...
I have been praying for God's forgiveness for my past sins for a long time. I felt like I should be stoned to death like the adulteress woman in this passage. But in spite of the pharisees and scribes trying to trick Jesus into judging her behavior, so that they could pass their own judgment on Him, he did not.
Jesus convicted them of their own sins, and they went out one by one..notice the older one's went out first. They'd been alive the longest and therefore had more sin in their lives to think about.
It's hard to feel worthy of forgiveness when Satan is right there to remind you of the past life. But when we're saved by the blood of Jesus Christ, then we begin a new life filled with love, mercy and forgiveness.
But there is also a war to be fought when you make the commitment to Christ. Satan wants you
back, but you cannot let Satan's trickery defeat you!!! So wake up, praying, and put on the full armor of God!! (Nope, you can't get that at GAP, God prepares it for you! - Ephesians 6) Don't give the devil a foothold in your lives, he won't let go! He is a hungry lion looking to devour your soul! He's not interested in a snack, he's ravenous!
Questions it brought to my mind...
In John 8, I wonder what Jesus was writing on the ground?
My closing prayer...
God I come to You in the name of Your Son Jesus Christ. You are a merciful God, full of love and I praise and worship Your Holy Name. I am praying to You for the strength to live my life in Your name. I am praying to You that You will give those around me and all in the world the strength they need to come to You and dedicate their lives to You. Please give us all the strength to lives our lives joyfully, glorifying Your name, spreading the message of Your love.
I had grown weary, living my life in fear, and now through the blood of Jesus Christ, you will forgive me and now I have to fear no more. I will put on the armour you have given me and I pray that you will give us the strength to make good, righteous choices in our daily lives, to become shining beacons for you, being careful not to give Satan a foothold in our lives and the strength to defeat all evil in your Holy Name.
In Your Name, I pray, Amen