Marked for Christ
by Rev. William F. Lopes
(Lake City, Florida. USA)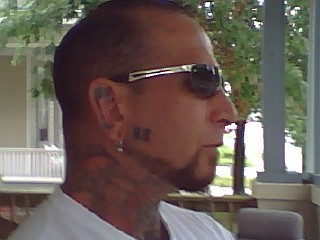 Brother Tattoo
William Lopes



My Testimony
My name is Rev. William F. Lopes. I was Born January of 1968 Falmouth Massachusetts to Gerald, Alleta, a Both of who were in the middle of alcohol addiction.
I guess in worldly respects, my parents were considered cool because kids could hang out and party with them. The folks were always partying.
It was one of these hang around types who for a few years beginning at about the age of 6 who raped me. Young and vulnerable I endured physical and later, much mental and spiritual pain. I knew that something wasn't right about what was happening. This is where I guess I started wearing mask. Running from pain, shame and fear and becoming whom I thought everyone else wanted me to be. This also is when I started formulating plans to become the man I am not, but whom I portrayed to the world for years I was. I started Drinking for affect and at the age of 12 I discovered pot, shortly after speed, then heroin, cocaine and anything to get away from the shame I felt for being something that "I knew" I wasn't supposed to be.
I spent close to 13 years in and out of reform schools, county jails and state prison, and then going back to heroin after each release time as tool to kill pain. I've left behind me a legacy of pain, neglect, abuse and brokenness. With every failure I became more hateful, angrier, and more physically brutal, tattooed my self more and did everything I could to keep people away from me. Many Times I dabbled around the fringes of churches. I believe today the Holy Spirit was drawing me in. But I was so involved with my sin and drug use that I wouldn't even let God close enough to touch my spirit. In 2001 after Ivan my youngest son was born I became very suicidal. I had recently made contact with and gotten to tattoo my cousin Jim in Florida. I remembered him telling me a friend of his who owned a parlor in Gainesville Florida liked the work I did and told Jimmy that I could have a Job so south I went. And it got bad real fast. Tattooing, booze and cocaine, it was a constant. Relationships were shallow and brief. People were afraid of my associates and me.. Eventually I had tried to kill myself, again, and wound up north of Gainesville in Lake City Florida. A one Horse town with a dead horse, in a homeless shelter run by Miracle Tabernacle The Biggest 'Black' church in the city. I was sure I was getting ready to walk into hell. God had much more in store for me. Sitting down to talk with Mitch, the Son of the church pastor and one of the church Elders I knew the bottom was about to fall out of my life. ?Do you know Jesus Christ as your personal Lord and Savior?? he asked. I looked at him and said, ?God is dead? and gave him my ID card. In my room, I couldn't even unpack. I was numb. This is what was left, a small pile of tattoo equipment and clothes. I hit my Knees and said, "God, I really don't know if you are all who people say you are. I have tried to be your friend before, but I ask you, if You are real you need to show up and prove it and you need to make yourself real to me soon because I am ready to go out and I am going to take a whole lot of people with me."
I guess I didn't realize exactly what I was saying. I guess I was meaning to say that in a selfish, "as long as it lines up with William's will" way. I spent the next 21 days in church twice a day during revival because this is what a Christian does, right? I was on fire however and there wasn't anyone that I met that didn't hear about Jesus.
I gave a small portion of my testimony in church and on of the Church Elders Ms. Allison said she would pray for me and a few days later gave me scripture out of Joel 2:25. "And the Lord will restore all the years that the locust, the swarming locust have stolen from you and you shall have plenty." (Lopes Paraphrase) I was encouraged as it was then and still is a desire to see my children again.
I felt it was sweet of her to speak life into my situation like this and got her a thank you card. A few weeks later after bumping into Ms. Allison everywhere I went, we exchanged e-mail addresses and began to correspond a lot more frequently, actually like every day. We were married October 30th 2004 and spent our first evening as a married couple back in the church praying. Allison heard God tell her that because we had sacrificed the first fruits of our marriage to Him in prayer that He was going to honor and bless our marriage. After honeymooning on Amelia Island, we set off into our new life together.
After only being married for several months I was injured at work and required surgery. During surgery I contracted MRSA in the wall of my abdomen and was re hospitalized, had my abdomen opened and was sent home to heal from the inside out. As a result my time out of work went from 2 weeks to an estimated 6 months. It was during this time at home I picked
up and smoked crack for 14 days, spending several thousand dollars.
My sin sickness exploded in full force.
Lying, stealing sneaking around, all my addictive behavior manifested in a way like never before in an attempt to hide and fuel my habit. One day after Allison had found out, while cleaning the Harley to sell, I stole a check from her and went and bought more dope. After getting high, I listened to the devil and tried to kill myself.
The voice in my head was telling me, "You're no good, you'll never amount to anything, you just need to do the world a favor and end your miserable existence." I cut both my wrist to the bone and in a rage began punching the wrist to open them further.
To make a long story short, since this happened in June or July of 2005 nothing has been right. I put on several new masks, played church, been to and left several programs up and down the East Coast and every 3,6, 9 or so months I would go off again and get high. I have done things I never dreamed I would do to Allison, abandoned her, lied, stolen, been un- faithful in every way a man could be un- faithful.
Allison was shocked when I said I wanted to come to City Rescue Mission.
After being at City Rescue Mission for Three Months, God began confirming in several ways that the New Life Inn at State Street is where He intended for me to be. One evening I could tell something was bothering Allison and pushed her to talk. I had let Allison use a new Black Berry I had gotten while I was away. She saw that I had several women's numbers in the phone book. I had lied about them and started a fight. She knew I was lying through my teeth but I sat right there and continued to lie.
But God Provoked me to call her later, "Allison, you are right. My intentions were to run around and tattoo, party and shack up had I not come home, please forgive me for lying."
"William" she asked, "what's your blood type?" "What?" I thought to myself, "B+, why" I responded. Allison's response was that it was because when I got home she intended to have me on a good healthy diet. I didn't understand until the next morning. I'm accustomed to reading Proverbs every morning I opened to Proverbs 24:26 "an honest answer is like a kiss on the lips" (NIV).
Instantly The Holy Spirit spoke to me. "William, you know when you confess your sin to me it restores our relationship, it heals a rift right? All Allison wanted was your honesty so that you, together, could begin to heal" (See James 5:16). This was a turning point for me.
Near two and a half months ago now I came home to be with Allison. I stay at home as I am waiting to have major surgery on my spine, But God is good and has through this, as in all things provides me that opportunity to sit and study full time.
I'm working on my Bachelors degree in Christian Counseling through Ames Bible College and I am also doing Ministerial Studies trough The Prophetic Voice Institute. Last Month I had the Honor to be ordained an Independent Minister under the Umbrella of Trinity Evangelical Christian Ministries, and to say that I am active in that ministry would be an understatement. I have had the privilege to write and share several in-depth articles on ministry and had some excellent feedback and discussions over them.
Allison and I spend two nights a week in prayer and study together and God is blessing us. We resolve issues that arise more civilly; we talk, and are looking forward to the doors that are beginning to open up as far as Marked for Christ Ministries connecting with others, and for us to have the opportunities to share the Gospel message through our testimony.
These marks, the healed scars in my life, are more of a testimony as to how walking in an intimate relationship with God, the Creator of this universe can dramatically change the heart of a Man that was so jaded.
The above testimony is very brief and I plan to write a full book on my entire life. The years of abuse that led to my running and hiding from God and the world for over thirty years. The hate movement where I sought acceptance and found only more evil to fuel the hurts I already had. The years in prison and on and on, that all led to my journey with Christ Jesus and the struggle to find out who I was, really was according to His Holy Word, who we all are, RIGHTEOUS!!
"Yet God, with undeserved kindness, declares that we are Righteous, He did this through Jesus Christ when He freed us from the penalty for our sin."(Romans 3:24, NLT)
I so look forward to the doors that I know God is going to open for me to bring the word that He has put in me to others. What a blessing it will be to see the Prophecy that was spoken into my life fulfilled and to see that God brought me full circle from a man that wanted only to die to a man that wants only to live life full out for Jesus Christ and watch others be blessed and set free by the miracle that is my life. God Bless you. Jesus Christ loves You, So do I.
Rev. William F. Lopes