Prayer Request: Michael's heart. We Need a miracle!
by Michele
(Roseville,Michigan, USA)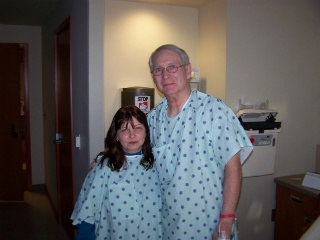 My mom & Michael
Hello, I am Michele from Roseville Michigan. Will you please pray in agreement with me for my step dad Michael? I am standing strong that my prayers can be answered, anything is possible through Christ. Thank you for your website, your humility, and your service to those that need prayer. I am so grateful for people like you.

Oh precious Lord, hear my prayer, please do not forsake me. I come to you, to ask for prayer, prayer that can change lives. Please come into my step dad Michael's life. He knows you, and loves you. Please restore his strength, and renew his spirit and help him get better, and make necessary improvements for advanced treatment. He is critically ill and using an artificial device to help his heart function because it is so badly damaged. Please Lord, bless his heart, bless his mind, his organs, and his body. May he gain enough strength to make it through this critical time, and be able to have a chance at life. May the Lord renew his body, and may Michael have a chance to be on a Heart Transplant list.I pray right now as his body is still in a very critical condition, that he can be free from all infection, and that the Lord can create a shield among him, that he can be protected by the Armor of God from anything that can harm him. Please Lord, my family is in shambles and we need a miracle. Help my mom to remain calm, and look to you for her strength. You tell us in your word to pray continually, help me to keep praying. Help me to keep believing. Help us find peace in You, comfort in You, help us stay encouraged. Lord, please do a mighty work in Michael's life, please help him, and I command in the name of Jesus Christ my Lord and Savior that he have a full restoration and healing. Lord let him live.In Jesus most precious and holy name. AMEN


---
A prayer from Ameerh's heart:
I stand in agreement with you this day. I pray that God's Word would be fulfilled, that Michael would live and not die and proclaim the works of the Lord! I pray that God would send His peace that passes all understanding to be with your entire family and that He Himself would rebuild those broken places in your family that this has caused. I pray that Jehovah Rappha (The Lord that Heals You) would come into that room with Michael and set up camp. That angels will encamp around him giving wisdom to his doctors and steadying their hands and minds. That they would do spiritual warfare on Michael's behalf against any demonic forces that are trying to steal his life. He will live and not die in Jesus mighty name- Amen.