Steve's Bible Study on Philippians
by Steve
(Tennessee)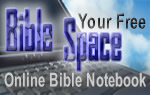 This Bible Study Notebook Chronicles Steve's Bible Study on Philippians.

About me: I am a 65 year old Christian man. I live in the US in Tennessee


Entry #1
Date of Entry:
1/28/08
Scripture(s):
Phil.1:1
My thoughts:
Paul named 4 categories:
1. servants
2. saints
3. bishops
4. deacons
All saints should be servants.
Some servants have been named by other saints as bishops and deacons because of their service to others.
Questions it brought to my mind:
1. What are the marks of a saint?
2. What service can I render?
My closing prayer:
Lord, I thank You that I am numbered among the saints by Your grace. May I use the opportunities of this day to be one of Your servants.