The Giants in the Land
by Annmarie Fontanez
(Hoschton GA)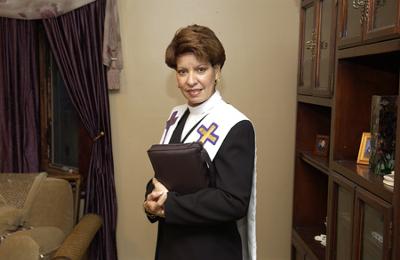 Overseer, Annmarie Fontanez
About Me: My name is Overseer, Annmarie Fontanez, D. Min. I am the Senior Pastor at Cornerstone of Hope Ministries in Winder GA. I have been in ministry for nearly two decades. My husband and I have planted four ministries three of which have been churches. I am the ministry visionary. I am a apostolic teacher for the end times with prophetic revelation.

I believe the greatest witnessing as Christians is exemplified in our integrity. I strives daily to live a life in God and for God. It is quite difficult for me compromise my message or my purpose.

I believe in making the Gospel simple but profound. My teachings are from the studies of the Midrash, the Chumash and other Hebrew teachings. I believe in teaching the deep things of God from the original manuscripts spoken and inspired by God. I strongly seek the un-churched, the displaced and the lost. One of my missions is to train leaders in a new army for the glory of the Kingdom of God. I am comfortable utilizing my divine spiritual authority. I do not hesitate in bringing correction and speaking against false doctrine and false teaching in the church as the spirit will lead me. I do fight for the righteous and speak against religious spirits. In addition, I am serious about the lack of conviction of sin in the church.


Scripture(s):Isaiah 61:1 "The Spirit of the Lord is upon Me because the Lord has anointed Me to preach good tidings to the poor: He has sent me to heal the brokenhearted, to proclaim liberty to the captives, And the opening of the prison to those who are bound"


My thoughts...People are perishing for lack of knowledge. Many of them aware of their dry spirits, people functioning lifeless not living their lives on purpose. Yet not having enough courage to stand up and be counted for Christ's true message to His people.





Questions it brought to my mind...Is the body of Christ ever going to have enough faith to get through the times that are ahead which oppose everything you presently believe in.




My closing prayer...Father, Son and Holy spirit I pray that this day that you have made, that you will find the moment when your glory will be revealed to all man. I pray that all may come to the knowledge of you before it becomes difficult to return to your ways.