The Wedding of Hope
by Michael & Diamond
(weddingofhope.com)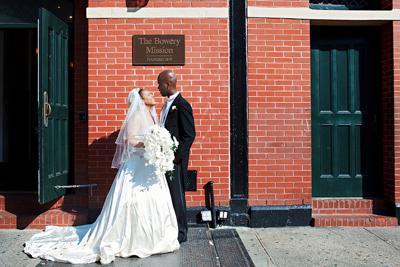 The Wedding of Hope
My wife Diamond and I officially met each other while participating in homeless outreach at The Bowery Mission, which is located on the Lower East Side of Manhattan (New York City).


I was a part of a young men's group and our leader invited us to volunteer at The Bowery Mission with Diamond. There is where I first saw her and noticed her. She was very striking and beautiful, but I resolved in my mind to focus on the outreach, which was to the homeless.
After the outreach, I continued to stay connected with Diamond's ministry and heard of her conference call prayer meeting, which she coordinated every week via the telephone, where people from all over called in to this dedicated line that she set up to receive prayer. I was feeling a call to prayer at the time, and felt this was a great place to plug in where I could take part in prayer. On this Prayer Conference Call is where we first prayed together, and I got to know Diamond (and her heart) better. After some time, we began to talk more one-on-one.
We talked and spent time together and it began to dawn on me that I should ask Diamond for her hand in marriage. After a few short months of courtship, I proposed and she said yes!
We discussed and agreed on a date.
It was perfect, 9.10.11, and it was during the 10th anniversary of 9-11. A national weekend of service!
Yet, I began to think and feel that the appropriate thing for us to do was to invite the homeless to our wedding. I felt it was the right and natural thing to do since we were already doing a lot of volunteering in NYC to the homeless. I talked to Diamond and she was thinking and feeling the same thing. We took it as a download from the Lord and confirmation that it was He who put this Vision on our hearts. We agreed to invite the homeless as Guests of Honor for our Wedding Day, and we resolved that it was to be a Wedding of Hope to bring and cultivate hope, significance, and love to many who were without, and who perhaps had never been lavished or honored to be invited to a wedding.
For Diamond, these people – the homeless of NYC – were her family. Diamond's mother and father are no longer with us, and she had no family whatsoever in New York, nor anywhere even remotely close to New York. But the relationships that she developed with many of the Guests from the street were deep and kindred. Plus, with Diamond's history – she used to be homeless – she could relate to how special this event would be to our invited guests. To her, it was only natural to invite "family" to our Wedding, and so inviting the homeless was a "no-brainer."
Over time, we came up with an amazing team of volunteers who wanted to take part in the Wedding preparations. Thankfully, we were able to recruit volunteer who wanted to do manicures, makeup, donate clothes, take pictures as our official wedding photographers, record documentary videos as our official wedding videographer, make a website, do PR, and give of their time and money to help make this Vision a reality. Initially, we had an abundance of volunteers and people who had offered to help. But, later on the journey, which was 13 months long, several people dropped out for various reasons.
We would get leads that would open up, and then close. People would make promises, and then wouldn't come thru on their commitment. Additionally, people who were on board would suddenly be "off board" at a moment's notice. There was not always a consistent team, of the same people, all the time. This was extremely challenging, and at times, very stressful. Yet, we did what we could with what we had, and we prayed.
We prayed for provision. We prayed for God's presence. We prayed for catering and food, and decor. We had NO budget at all. I say again that we had no budget. Zero dollars. We would go to stores, by faith, and contact people, by faith. Diamond is a faith warrior, her faith would surprise me. Diamond would prayerfully find great contacts, we would contact them in one form or another, and many people would just give of their services to us, complimentary, at no charge. They would catch the Vision. It was very exciting.
For example, we did not have any flowers AT ALL. And we had no idea how we were going to get any, because we couldn't afford flowers. Again, we had zero budget. Yet, Belle Fleur volunteered to give complimentary flowers for our Ceremony. Also, we have no decor to speak of really, even up to the DAY BEFORE the wedding. Yet, we received a reminder during a phone call with The Bowery Mission (our venue) the day before the Wedding, about a great lead who was more than willing to help. Sunil and his team gave of their time and resources, including amazing décor and flowers, literally in the 11th hour. Not to mention, Sunil turned the dining hall at The Bowery Mission into a royally beautiful reception venue that completely surprised us. We were told that this "couldn't be done." And up until literally hours before our Ceremony, it wasn't done. But GOD. GOD
miraculously showed up and turned things around!
Another thing, Diamond and I had no cake, again – zero budget – even up to the week of the Wedding and decided that we may just end up making it ourselves, and transporting it by car, from Virginia to New York. The plan was to put the icing on it once we arrived at the venue on the morning of our Wedding. Yet, just a few days before the Wedding, one of our committed volunteers recruited two other volunteers who offered to gift their professional expertise to bake not one, but two!, beautiful and delicious wedding cakes for us. We did not know these 2 bakers, had never met them or spoken with them, but they caught the Vision. It was a complete and total miracle, how God answered our prayer and came through just in the nick of time for September 10th.
Diamond's wedding gown was tens of thousands of dollars in value. A few months before the Wedding, she began paying a very small amount at a time on the gown (similar to layaway), hoping to somehow get the money to be able to pay it off. It seemed absurd, especially being that Diamond earned a little less than minimum wage per hour where she worked, but it was a faith walk. After all, this was her dream gown! Some time went by, and she just could not make the payments anymore. Diamond was facing losing the gown AND the money that she had already put down (because the deposit was non-refundable). So she left the situation alone, prayed, and believed God. Then, a few months later, the boutique contacted her and said they would give Diamond her dream wedding gown for $99. It was another miracle of provision! Incredible!!!
One of my best men (in our Wedding party) was from the street. He was, and still is, homeless and became a friend of Diamond and I, several months prior to our Wedding. We maintained relationship with him, stayed in touch, and he agreed to be in our Wedding. Diamond and I were so thrilled! We went with him to his fitting for the tuxedo and shoes, and we paid for all of his expenses. On our Wedding Day, he was tasked with the responsibility to actually go and get other Guests from a homeless shelter facility in the Bronx, escort them via train, and bring them to the Wedding. We had coordinated this in advance, and he did his job effectively and well. It was an honor to be able to have our friend play such a huge part in our Wedding Ceremony as one of my best men, trusted and suited up, standing at the altar in agreement with me, as I married the woman of my dreams.
Our Guests of Honor were from facility (homeless shelters), and from the streets. They were both men and women. They came to The Bowery Mission early in the morning, several hours before the actual Wedding of Hope ceremony started. It was their day. They donned new shoes and clothing, got their hair and makeup done, and some even received a foot-washing from my best men (all of my groomsmen were "best men", and they performed the foot-washing to our Guests of Honor). Our male Guests of Honor received complimentary haircuts, shape-ups, and beard trimmings. Many of our Dream Team Glam Squad volunteers were encouraged and blessed by taking part in our Wedding, in this way by providing aesthetic services and treatments. There were lots of warm hugs of appreciation and big smiles shown on many of their faces.
The Wedding of Hope was open to the public, so family, friends, Twitter and Facebook acquaintances, and really, anyone interested from the streets, or just walking by, were welcome to come and take part in the Weding of Hope at The Bowery Mission.
It was an honor to have our wedding at The Bowery Mision. It was ironic because The Bowery Mission is where Diamond and I first officially met, serving the poor. And now, The Bowery Mission is where we got married, serving the poor. The entire Wedding of Hope was a tremendous blessing and an honor, and a huge faith walk, that I doubt Diamond and I will ever forget. We are so blessed to have been the bearers of this Vision, to serve with so many amazing people, and to see it come to pass.
I remember having an opportunity to cut some of the homeless guys' hair, with little to no sleep, after being in the car overnight, driving for 10 hours from Virginia through intense fog, and just a few hours before putting on my tux and walking down the aisle. It was an honor to do so. Who knows when the last time was that these men received haircuts or shape-ups?
All in all, the journey to the Wedding of Hope was not easy, nor always fun. But I believe that it was worth it, to invest love into the lives of our friends. It was worth demonstrating genuine kindness to others who clearly are in need. Diamond and I hope that our Guests felt appreciated and loved on our special Wedding day. They were truly our Guests of Honor. May God's great love never leave them, but pursue and overtake them so powerfully, that they too would receive and pass on, the enrapturing love of Christ.