Why God Created Women
by candi
(texas)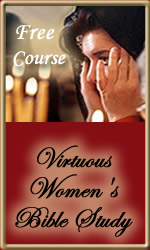 In our free Creation of Woman Bible Study, we answered the question, "Why Did God Create Women?" Here is Candi's response to that lesson:


It feels great to be the answer to Gods problem, because he is great and mighty and he chose me, he chose women. Though yes I have felt unlucky to be a woman at times.

I am young and I am married and I have 3 wonderful kids. I have been saved only a year and sometimes I feel I have way too many responsibilities for one person to handle.

I hope this course helps me and I pray I grow through this and mature too so I can see the woman God wants for me to be.


---
Want to discover why God created women? See The Hem's free women's Bible lesson,
The Creation of Woman...Why Did God Bother?