You're a VIP to Me!
Be
Treated Like a V.I.P.
For Free!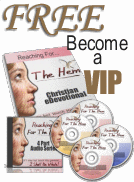 Free Subscription to The Hem eDevotional

Free 4 Part Audio Series on How to Connet With God!

Free access to our Christian eBook Library



Get Immediate Access!



Don't worry -- your e-mail address is totally safe with me. I respect your privacy and will never give away or sell your email address.