Are You Ready To Be A Beacon
by Anne Kiser
(Versailles, MO. (USA))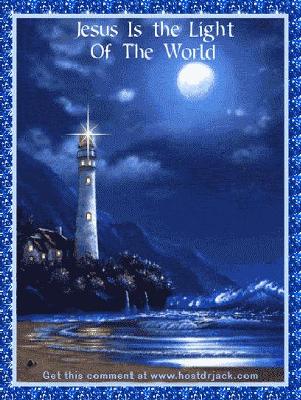 Shine With Him
Acts 13:47 (NIV 1984)
47 For this is what the Lord has commanded us: "I have made you a light for the Gentiles, that you may bring salvation to the ends of the earth.?

Welcome back I'm glad you are continuing to seek direction on shining for the Lord. Now we will learn what it really means to be a lighthouse for the Lord. When we first accept Christ we are as newborns and must grow in our faith. Then we become stronger Christians and start letting our lights shine, drawing others to us as a moth to flames.

In my previous post I stated how I came to know the Lord Jesus when I was 15. I left the darkness and stepped into the light of God's amazing love. I was ready to embrace His love and learn. Unfortunately no one thought to teach me. I was left to my own devices. I had no clue on how to proceed. I accepted and believed case closed. I was not discipled.

Darkness seeped back in and started to swallow up my light. There were times where I would find the light and basque in it for awhile. But staying there was my problem. I didn't quite grasp it. Always I would fall back onto my own understanding. I kept repeating the same old sins over and over again. Wondering why I couldn't get it right.

Many more years would pass before I would finally meet someone that could show me what I was missing. The missing ingredient was a relationship with Christ. I didn't have that because I didn't know or understand what it was. Then God lead me to a wonderful woman named Sharon. She became my mentor and helped me learn as we lead Bible Studies for women together. She showed me how to have a relationship with Jesus. And that drew me closer to God.

BUILDING A RELATIONSHIP WITH CHRIST

Jesus loves us each and every one. He showed us His love by dying on the cross, He took our place. He wants a relationship with us. He wants to be our friend, guide, protector, brother, and teacher just to name a few. How do we know we have a relationship with Him?

Galatians 2:20 (KJV)
20 I am crucified with Christ: nevertheless I live; yet not I, but Christ lives in me: and the life which I now live in the flesh I live by the faith of the Son of God, who loved me, and gave himself for me.

1 Corinthians 1:9 (NKJV)
9 God is faithful, by whom you were called into the fellowship of His Son, Jesus Christ our Lord.

He comes into our hearts, our very lives. Once we believe and know this beyond a doubt the buds of a relationship will form. He starts to work on us. Changing the way we think, feel, act, speak. We no longer desire to live in sin. The transformation starts taking place within us. Little by little the old us dies to become the new in Christ.

Romans 12:2 (NIV 1984)
2 Do not conform any longer to the pattern of this world, but be transformed by the renewing of your mind. Then you will be able to test and approve what God?s will is, his good, pleasing and perfect will.

2 Corinthians 3:18 (NKJV)
18 But we all, with unveiled face, beholding as in a mirror the glory of the Lord, are being transformed into the same image from glory to glory, just as by the Spirit of the Lord.

My old life before my relationship with Christ, even though I had Him as my Savior; I am a morning person. I wake up and it is up and at em. Grab coffee, cigarette, get children off to school, go to work, cuss, gossip, party when I could, pretended to be someone else a lot, hypocritical, and just be a down right miserable person to be around. I would go to church and only feel good for a little while. I just didn't get it at all. I did not enjoy mirrors what so ever. I did not like looking at myself period. Honestly I did not like myself at all. I knew something was terribly wrong in my life but truly couldn't figure out what. I mean I always tried to treat everyone good and decent but no matter what I did I couldn't find peace or happiness outside of my children. I was what I call a lost/undiscipled Christian.

My life now with a relationship with Christ; I wake up praising God for another day, spend quiet time with my Savior, sing praise and worship songs, do my devotionals, and listening to what the Lord wants me to accomplish this day to bring Him glory and honor. Smoking who needs it definitely not me, but I do still have my coffee :-) Gossip no way, for my lips are sealed to maliciousness, I no longer need to pretend to be someone I'm not, God loves me for me. Cussing or swearing not by my chinny chin chin. The only parties I attend now have no alcohol of any kind and are filled with people who know how to have fun by just being their-selves. No longer am I a hypocrite, I stand by my convictions. I am no longer a miserable person bringing people down, instead joy fills my heart and I am quick to laugh and smile with others joining me. Now I can look into a mirror and see what God sees in me. I love myself and do my best to love all others even my enemies and that is the hardest I believe for me to do. My whole outlook changed. Changed because of the relationship I am having with Christ. Though I am not perfect, I still have my moments (too many in fact) when I forget to let the Lord lead me.

Galatians 5:22-23 (NKJV)
22 But the fruit of the Spirit is love, joy, peace, long-suffering, kindness, goodness, faithfulness, 23 gentleness, self-control. Against such there is no law.

Romans 6:6 (NKJV)
6 knowing this, that our old self was crucified with Him, that the body of sin might be done away with, that we should no longer be slaves of sin.

I am like this now because I finally believe. Believe that He loves me no matter what. The walls were torn down so Christ could live within me. Now please know this; I do fall. I am human we all are. We will go astray and our light may dim but it can be re-lit and shining once again. Yet I have found the more I stay with the Lord the stronger I become and my light stays shining. God didn't say it was always going to be easy. In fact He said the exact opposite. But take heart for He is always there with open arms. That is what a true loving relationship is all about.

1 Peter 4:12-13 (NKJV)
12 Beloved, do not think it strange concerning the fiery trial which is to try you, as though some strange thing happened to you;
13 but rejoice to the extent that you partake of Christ?s sufferings, that when His glory is revealed, you may also be glad with exceeding joy.

LOOK AT IT LIKE THIS;

You were once single and living your life your way. You only had yourself to answer to. No husband or children to contend with. No relationship to build on. Now suddenly you are married to the man of your dreams. You want to please him and show him your love and devotion. You start building a relationship on those feelings. Then children come into your life and again your life changes. You want them to know how much you love them. So you once again start building a new kind of relationship. It is the same way with Christ. You want to grow and change. You want to make Him smile, you yearn to please Him as you do with your husband and children. You stop and think about what would please or displease God. You put more thought and effort into it. He becomes the center of your life. You focus on Him and reap the rewards. He will increase the love you have for your husband and children. He will show you how to love your enemies and how to forgive any wrongs done to you. You will smile for no reason and be glad in doing it. Your heart will yearn to be with the Lord every moment of the day and you will smile. Scripture will come alive to you as God reveals more and more of His love for you. The light in you starts to shine outwardly. Look out you are going to draw people to you. How awesome is that!

How to look at it another way if you aren't married or in a relationship with anyone; you have a boss right. He expects things of you. Be to work on time, don't miss work, do a good job, finish jobs given you, be pleasant, look professional, you get the idea. Now you want this job and you want to make sure you make your boss happy, after all it could mean better positions and raises. So you work at it. You stop and think about all that you do. Is this pleasing or displeasing, will this further me in my goals, how does it look to others. You become happier once you understand you are putting forth your best effort. Your boss notices and so do your co-workers. They see you happy knowing you're doing your best. You are building a working relationship with your boss and co-workers. It is the same way in building your relationship with Christ. As I stated above. You become so filled with wonder and love you just start shining and people start noticing.

The light is lit; even a small light captures the eye of another, and the more you grow in your walk with Christ the brighter it will shine. Eventually becoming a beacon lighting the way for others.

Psalm 119:105 (NKJV)
105 Your word is a lamp to my feet, and a light to my path.

Father God,
There are so many of Your children out there wanting to shine for You. And Lord some don't know how or just don't understand how to have that personal relationship with Your Son Jesus. My prayers are for them loving Father. I pray You will guide them in this study and reveal to them the knowledge they need. Let my words be guided by You sweet Father God. Let us find this time together enriching and encouraging in our own personal walk with You. Thank You sweet Lord for desiring a one on one relationship with us. We are fearfully and wonderfully made by You and we know You love Your own. Thank You Lord. Thank You. In Christ's name, amen.

More food for thought:
Do you have something causing your light to be dim?
How can I keep my relationship strong?