Welcome to the Christian Character Bible Study!
Being A Beacon For God
With Your Bible Study Leader
Anne Kiser
(Versailles, MO.)

In the same way, let your light shine before others, that they may see your good deeds and glorify your Father in heaven.-Matthew 5:16 NIV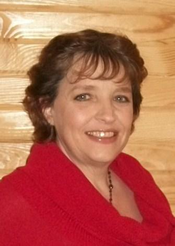 Anne Kiser:

Christian Characeter
Bible Study Leader
Welcome to our Christian Character Bible study!
It is so important to let the light of Christ living in you shine, in order for others to really see the love of God. We want them to see a change in you personally as you grow in your walk with Christ.
The more you love and learn about God and Jesus the brighter your light will be. And that is the purpose of this Bible study on building strong Christian character.
Your light shows how dedicated you are to serving God, and it helps the lost find you. They will stop and ask why you look so happy and what that awesome light is in your eyes.
They aren't seeing you, they are seeing Jesus, how great is that!
Some small info on me...
Blessings everyone and welcome to this study here at The Hem. My name is Anne, aka Angie, I am a mother of 4 grown children and MeMa to 8 beautiful grandchildren. I am a grown woman chasing after the heart of God. I have led several in home Bible Studies for women and enjoyed every minute of the fellowship and watching the women grow in their walk with Christ. I have a passion to help abused lost women and children find their way to a new life. A life filled with love and hope.
I love creating and writing. It is the desire of my heart to use my writing to bring glory to the Lord. I have written poetry and short stories though they are not at this time published. I look forward to, if and when the Lord leads me to that stage in my life.
I am not a theologian. I just let the Lord lead and guide me when I read His word, and then help others understand it in a way easy for them. I have found by letting Him have control others comprehend much better what I am saying.
A fire is lit in my heart for the Lord to use me to bring Him glory and honor by reaching out to those who continually seek to live for Him. To be a light for those who are searching for Him and want Him in their lives. I am but a simple woman who loves the Word of God and wants to spread the good news. The Lord has called me to be a prayer warrior and I have been blessed so many times with answered prayers.
What This Christian Character Bible Study will Cover

One of the things I love in my walk with Jesus is how others notice a light in me. They are seeing Jesus in my life and what better reward there is than that... I don't know.
Becoming a lighthouse for the Lord is one of the things He calls us to do to live a Christ like life. This is the topic I will be discussing with you in this Bible Study. I am excited about doing this study because once you shine for the Lord people will notice something about you and want in on the secret.
I love seeing people so in love with Jesus that they just shine. That is them being a lighthouse bringing others towards them.
Do You Know How to Let Your Light Shine?

So many new Christians aren't shown how to be that lighthouse. I know I was one of them. For years my light didn't shine therefore not one person knew I had Christ in my heart. I wasn't discipled on how to have a relationship with Christ so I could shine. I don't want others to go through so many years of not having that personal relationship.
I look forward to doing this study with everyone. I look forward to seeing many new lights shining out there in the world. It needs more lighthouses to dispel the darkness that keeps encroaching.
---
This Form is For Anne Kiser's Use Only.

This form is what Anne, your Christian Character Bible Study Leader, uses to submit your lessons.

To participate in the discussion, you'll be given a separate form after each Bible lesson. We look forward to reading your thoughts there.

Click Here to read your free Christian Character Bible Lessons!

Anne, What would you like to share?
Your Being a Beacon for God Bible Study!
Your Bible study lessons are below. As you read each lesson, think about how they apply to your own life.

Share your thoughts and comments using the comment forms below each study.