This Little Light of Mine
by Anne Kiser
(Versailles, MO (USA))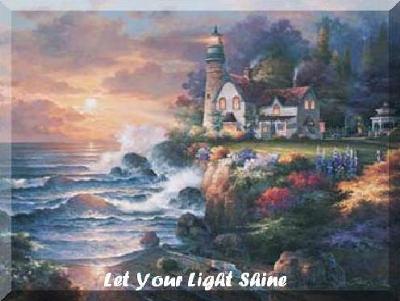 "This little light of mine, I'm going to let it shine. This little light of mine, I'm going to let it shine. The little light of mine I'm going to let it shine. Let it shine let it shine let it shine."


Remember singing that in Sunday school. I do. Little did I know or understand the real meaning behind it.
Being a lighthouse for the Lord isn't a simple matter of flipping a switch. We have to keep that light lit and that means persevering in the most trying times of our lives. I am not going to say it is easy to do. It isn't, for the enemy seeks to constantly put out our lighthouses. He doesn't want us to shine for others. He will cause many storms and doubts to come your way, that is when you need to shine the brightest. For when you are truly strong in the Lord no storm can put out your light.
Don't be fooled by thinking it is only a matter of accepting Christ and getting baptized and your light will shine. Oh to be sure the glow is there when you come to know Him as your own but you have to develop a relationship with Him in order for that small glow to become a full blown beacon for all to see. You will need to be taught how to grow in Christ. I am speaking from experience. I wasn't shown how to be a lighthouse. I wasn't even told about it. I accepted and was baptized end of story. Oh how much I missed out on. I don't want that to happen to anyone else. I burn to let others know there is so much more to loving and knowing Christ Jesus.
I pray this Bible study will help you become a brilliant lighthouse for all others to see.
Lord God, I pray for wisdom and encouragement from You during this study. Help my words be a light to those who are on this light journey with me. Be with us and may Your light brighten our paths. I love You Heavenly Father. You have kindled in me a fire that can't be quenched. It can only be fueled by Your words and love. Thank You Lord for giving us the means of becoming a lighthouse for You. In Christ's holy name, amen.
John 1:5 (NKJV)
5 And the light shines in the darkness, and the darkness did not comprehend it.
For many years I walked in darkness. I accepted this darkness as my best friend. In it I could hide everything I didn't want known; my loneliness, despair, bitterness, abuses, and anger. It was my cocoon and I relished it. If someone tried to shine a light into my darkness I would rebuke them and turn away. The light scared me terribly for it would reveal the ugliness deep within me. The darkness kept my sins hidden from the rest of the world.
Then one day when I was 15 I saw a glowing light that came from a man who was singing a song about Jesus. He actually glowed. My hands started sweating and my breathing quickened. I heard something inside me say "Go just go." But the fear in me was great. If I got near him, the one he sang about would see and despise me. How could I go forward? The voice that lived in the darkness was really convincing, telling me to stay put for there was no way I could live in that light. I wanted to stay there where I was comfortable wallowing in my own pity. But that light seemed so warm and it beckoned to me. I was so tired and weary. Tired of hiding, of feeling so cold
and empty inside, and I wanted something or someone to just help me. I fought hard to quiet that voice of darkness. Slowly but surely that other voice was winning, even though I had no clue where that voice was coming from let alone who it belonged to. When the invitation came, I with shaking knees, tears streaming down my face, and a hope in my heart, went and made my way down the aisle. That glowing man took my hand and led me into the light.
His name is Jim. I will never forget him and what he did for me that day. He represented the love of Christ. He lived his life for the One who is the Light Himself. I saw a beauty there in Jim that I had never seen before. It was the beauty of Jesus living in Jim's heart and soul. He was and is to this day a lighthouse for God. I wanted to shine just like that.
God calls us all to be lights. To accept that His Son is the Light of the world. To believe in Him and let it show.
Matthew 5:16 (NKJV)
16 Let your light so shine before men, that they may see your good works and glorify your Father in heaven.
John 8:12 (NKJV)
12 Then Jesus spoke to them again, saying, "I am the light of the world. He who follows Me shall not walk in darkness, but have the light of life."
Many fear that Light as I did. For in that Light we can not hide the ugliness of our sins. The Light reveals all to us. It speaks of how the darkness flees from the Light. The enemy of God doesn't want us anywhere near the light of Christ. Satan hates the Light for it shows us the ugly truth of sin which he would rather be kept hidden. The Light wasn't sent to harm or condemn, but to love and heal. He gives hope and shows us a new path to walk on. He steers us away from dangerous pits. Christ is that light. He is the Word of Light.
John 12:46 (NKJV)
46 I have come as a light into the world, that whoever believes in Me should not abide in darkness.
But we must continually follow Him and not stray from the path or else the darkness will consume us once again. I know it has happened to me. But the beauty of God's love is that His light is still there shining for us showing the way back. It is a journey. One that starts from accepting who Jesus is and then being taught how to grow in His likeness.
This is just the beginning of my story and the wonderful gifts the Lord has bestowed on me. I want to share this life journey with you.
Lord God, My prayer is for all the people who are searching for answers. For the ones who want to let their love of You shine but not quite sure how. Please Lord speak out to them. Show them how to shine brightly for You. May they let the love You have for them radiate out to all around them. Father, I ask you to be with all who read this and may they find some comfort and a small bit of wisdom. Guide me Heavenly Father as I seek to do my best to spread the good news of Your love in the form of Your Son Christ Jesus. In His name I pray, amen.
Food for thought:
How bright do you want your light to shine for God?
Do you sometimes feel there is no escape from the darkness?
What is the one thing the enemy keeps using to lure you back there?