Christian Husbands
by LaWanda D. Cook
(Glen Burnie, MD USA)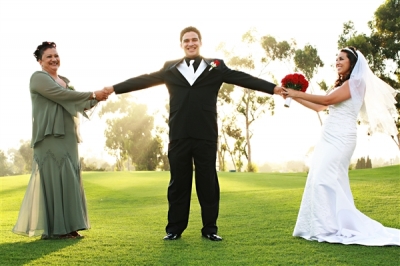 Who Comes First -Tug of War
Leave and Cleave: The Struggle for Christian Husbands

Prov 18:22 (KJV) Whoso findeth a wife findeth a good thing, and obtaineth favour of the LORD.

Genesis 2:24 Therefore shall a man leave his father and his mother, and shall cleave unto his wife: and they shall be one flesh.

I want to concentrate on this mandate given specifically to the "men". Many of us have read this passage of scripture countless times; however we have not managed to fully comprehend its meaning. We understand the general meaning which signifies that when we marry, we are to join together as a couple and start a family together; but this scripture states so much more.

1 Peter 3:7 (KJV) Likewise, ye husbands, dwell with them according to knowledge, giving honour unto the wife, as unto the weaker vessel, and as being heirs together of the grace of life; that your prayers be not hindered.

During Old Testament times, when a couple married, the woman would leave her family and go to live with her husband's family. However, according to the scripture stated above, God tells the men to leave their mother and father and cleave unto their wives. This would appear to be a contradictory to the women going to live with her husband's family, but let's examine why it is in fact very "on point".

We'll start by looking at an example of women leaving their families to join with their husband's family in Ruth.

Ruth 1:8 (KJV) And Naomi told her two daughters in law to go, return each to her mother's house: the LORD deal kindly with you, as ye have dealt with the dead, and with me. Here we have a situation whereas Naomi's two sons and her husband have died. Naomi bids her two daughter-in-laws to return home to their families.

The reason that God told men to leave their mother and father and cleave unto their wives is because most men have a harder time detaching themselves from their parents, specifically, their mother. Many men are able to physically detach themselves by moving out or joining the military etc., but they struggle with the ability to emotional detach themselves.

The attachment is so strong; it's as if there's an invisible umbilical cord still connecting them. Unfortunately, many men have a difficult time allowing their wives to take their rightful places in their lives because of this attachment. They frequently lack the ability to understand that once they marry, their wives then become first in their lives instead of their mothers. This frequently causes turbulence in the first few years of marriage.

Oftentimes, when a husband and wife have a misunderstanding, it's because of this attachment, men will seek sympathy from their mothers and find comfort on their bosom, so to speak. Likewise, the mother's add to the problem because they feel that no other woman is capable of taking care of him as good as they are. This attitude and action makes it harder for the man to be able to cleave to his wife. The mothers have in some way, assured the man that if things don't work out, they could always return home and Momma would always be there. It is because of this that many men don't realize that they are indeed married until after the first few years of marriage.

1 Corinthian 11:3 KJV But I would have you know, that the head of every man is Christ; and the head of the woman is the man; and the head of Christ is God.

The sooner the man realizes that he's married and allows his wife to take her rightful place, and the wife also allows her husband to take his rightful place as head of the house, then they can begin their journey to a joyful, God-lead and productive cleaved union.

1 Cor 11:8-12 For the man is not of the woman; but the woman of the man. Neither was the man created for the woman; but the woman for the man. For this cause ought the woman to have power on her head because of the angels. Nevertheless neither is the man without the woman, neither the woman without the man, in the Lord . For as the woman is of the man, even so is the man also by the woman; but all things of God.

Husbands, keeping these things in mind, let God lead you and teach you how to be the husbands that He has called you to be. Think about your relationship with your wife and consider if you have indeed allowed her to take her rightful place in your life. Likewise, wives support your husbands; don't undermine his authority; especially if he is a God fearing man that's trying to live according to God's Holy Word. Seek the Lord for more patience, understanding and wisdom and I guarantee you that God will not let you down.