EMOTIONAL TRAP
by Olusegun Mokuolu
(Nigeria)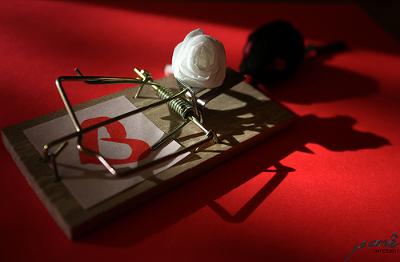 LOVE TRAP
As Christians we battle all forms of temptations and circumstance. Some physical, some spiritual, some material and some emotional. I have not heard of anyone going for emotional deliverance. Yet a lot of Christians suffers from what I call emotional bondage. It cuts across every group of people on the face of the earth. And so permit me to share a little story of a friend before I go ahead.


"It was in the year 2005, during my National Service Year. Before this time, the Lord had greatly helped me to keep my heart intact and undivided. I was sharing apartment with two other female graduates. I lived in a room with a male graduate and the other two females shared another room."
"In the beginning everything seems ok and we were doing great serving our great country. Until when I fell "in love" with one of the female graduates. It was serious. I could not do anything than think about her. Because of my background, I was not experienced in the matter of love. I did not understand what was happening to me. For most of the day my body temperature increased and my heart was always beating faster. Could this be love? No one to turn to except the Bible. I read and searched the scripture to find out what was happening to me."
"I was hoping to find a similar situation in the bible. But nothing was coming forth until I forced myself to tell this lady how I was feeling about her. She was cool with it. Initially, I felt a great relieve and I thought may be God was the one putting the feelings in my heart. That relieve was short lived. I soon find myself thinking about her and could hardly sleep. I became unnecessarily kind to her. I was going out of my way to do things for her and please her."
"But deep within my heart, I knew something was wrong but could not explain why. I was seriously praying about it. Then one night, I was woken from sleep. I picked my bible and the Holy Spirit started ministering to me. In an instant my eyes opened and all the "love" disappeared. I became normal in weeks. I wonder why I had been thinking about her. I had regained my mind. I went to her again to tell her how I now feel. I had to do that to avoid any expectations. I needed to clear the air. The Lord finally set me free from the emotional trap."
Now let me share with you just one of the things I learned from that experience. Let's read a scripture.
David's son Absalom had a beautiful unmarried sister named Tamar. Amnon, another of David's sons, fell in love with her. He was so much in love with her that he became sick, because it seemed impossible for him to have her; as a virgin, she was kept from meeting men.
(2 Samuel 13:1-2 GNB)
This is a very familiar story in the scripture and I am sure you know how it ended. Have always wondered why the bible would say Amnon 'was so much in love with her'. Ordinarily speaking, that sounds like a good thing but the way the story ended shows the contrary. One of the early sign of that was that he "became sick". What sort of love is that? What sort of love would make someone sick? This cannot be true love! He could not do anything. He was literarily out of his mind.
He spent the whole day thinking about her and day dreaming of her. Bur he was just in an emotional bondage with the undertone of lust. That eventually led to his destruction if you read the rest of the story.
Examples abound around us of how several decisions have been made because of emotional bondage. Good Christian sisters have ended up marrying an ungodly man because they could not break away from the yoke of emotional labour. They may see all the signs that the man is probably not a Godly person but nonetheless go ahead. Some have even been unequally yoked with unbeliever because of this. Several relationships have been compromised on the altar of sin because of this.
Men have gone ahead to kill their spouse and children because they became emotionally entangled with another lady. Marriages have collapse for this same reason. Men have moved out of the house to live with another strange woman at the detriments of their marriage. Sisters who have kept themselves for so long have compromised their purity because they could not 'risk' loosing the man they are emotionally entangled with.
Time and space would not afford me to expand on the destructive nature of emotional bondage. Suffice to say that it's a serious issue in the world and in the Church. Preachers preach against fornication not knowing that behind most of those is the problem of emotional entanglement.
Many times we underestimate the power of our emotions and feelings. This is not in any way to say that falling in love is wrong. But often there is a thin line that we may easily go overboard. True love is patient, it is reasonable, it's kind, it's rational, it's truthful, it's honest and above all it's from the Lord. God is love. We must know God before we can truly love. Any idiot can 'fall in love', but it takes the grace of God for a man to truly love.
My experience has taught me that Jesus can set free from emotional bondage if we will only look up to him. He cares about every issue of our lives. If you have this problem, you can call on the name of Jesus today. And you will experience the grace of the Lord.
Finally, "Guard your heart more than anything else, because the source of your life flows from it." (Proverbs 4:23 GW)