Welcome to the Christian Men's Bible Study Online!
The Christian Man
With Your Bible Study Leader
Olusegun Mokuolu
And I sought for a man among them… but I found none.


-Ezekiel 22:30 KJV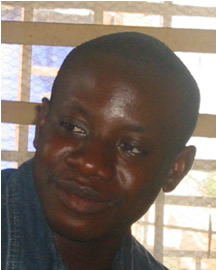 Olusegun Mokuolu:
Christian Men's
Bible Study Leader
I am very excited about our Men's Bible study because of the peculiar challenges that Christian men face.
God is always looking for a man in the home, Church and society. It's always a big disappointment when He does not find one.
It is therefore expedient to study the scripture and understand God's mind for the Christian man.
A Little Bit About Me:
I was born into a Christian family on 12th September, 1979. I grew up with Christian teachings and did all the "religious stuff" until 20th January, 2001.
Until then, I had struggled with Sin and worldliness. But, in the solitary of my room, the Holy Spirit visited me and I wept much for my sins. I began to see sin as sin. I also saw the emptiness of the fame I get as a contributor to a national newspaper.
The Lord is indeed gracious to me.
I repented of my sins and prayed for the Lord to help me. I was scared of backsliding, so I prayed for the grace of God to sustain me. I can testify that
the Lord is able to save to the uttermost
.
I got up that day a new man, and by the grace of God I have never looked back. I have since devoted myself to the study of God's word and immediate obedience to His word. It has been very challenging, but the grace of God has kept me to this very day.
I study geography in the university and I am now working as a human resource development consultant. I am presently a Sunday school teacher in my Church and above all, I am a disciple of our Lord Jesus Christ.
What We'll Uncover Through Our Men's Bible Study:
The topic of
The Christian Man
is weighty; to both God and man.
This Bible study will help us to understand the mind of God concerning the Christian man.
It will open our eyes to see the challenges faced by Christian men in the scripture and how they overcame them.
It will open our heart to the Holy Spirit to fill it with the life of Christ.
How will we do this? By the grace of God, when we focus on the man Christ Jesus.
Jesus is the perfect role model to every man. A study on His life will open the door for Him to fill us with His life.
Finally, through this study,
we shall trust the Lord to form in us the image and life of His Son Jesus Christ
.
---
This Form is For Olusegun Mokuolu's Use Only.

This form is what Olusegun, your Men's Bible Study Leader, uses to submit your lessons.

To participate in the discussion, you'll be given a separate form after each Bible lesson. We look forward to reading your thoughts there.

Click Here to read your free Men's Bible Lessons!


Olusegun, What would you like to share?
The Christian Man: Your Christian Men's Bible Study!
Your Bible study lessons are below. As you read each lesson, think about how they apply to your own life.

Share your thoughts and comments using the comment forms below each study.