Good Samaritan Bible Study
by Olusegun Mokuolu
(Nigeria)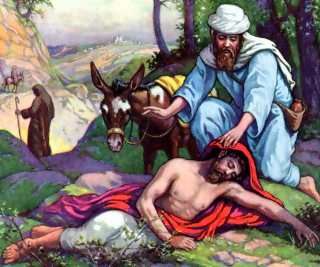 Good Samaritan Bible Study: Be a "Certain" Man

And Jesus answering said, A certain man went down from Jerusalem to Jericho, and fell among thieves, which stripped him of his raiment, and wounded him, and departed, leaving him half dead. And by chance there came down a certain priest that way: and when he saw him, he passed by on the other side. And likewise a Levite, when he was at the place, came and looked on him, and passed by on the other side. But a certain Samaritan, as he journeyed, came where he was: and when he saw him, he had compassion on him, And went to him, and bound up his wounds, pouring in oil and wine, and set him on his own beast, and brought him to an inn, and took care of him. And on the morrow when he departed, he took out two pence, and gave them to the host, and said unto him, Take care of him; and whatsoever thou spendest more, when I come again, I will repay thee. (LUKE 10: 30-35 KJV)
Are you a complete man? I mean do you have all bodily features in place? Your eyes are functioning well, your legs are always on the move and your hands obey every of your commands. You can breath without any problem moreover; your ears can even pick sound from a long distance. If this is your situation, give glory to God. However, have you ever thought of the fact that there are people around you (and even far from you) without hands, eyes, ears, legs etc? Yet, we all share this world together. Some are in other continents different from ours.
It is not by accident that we have such people living with us in this world. These people have been placed along your path so that as you go you would come across them "...leaving him half dead."
These people are living half dead amongst us. Imagine loosing your eyes and see the agony of a blind man. It is as if you are dead. The whole life seems dark to you nevertheless; this is not the true position of life. "And by chance there came down a certain priest that way..."
Our God is great, let me say it again, "our God is great to us". Therefore, it is actually by chance that we come across people that need our help. It is by the Grace of God that we see a person who needs our help. It is not by power nor by might, it is by Grace.
"...and when he saw him, he passed by on the other side." This is the kind of life we leave today in our individualistic society. We simply pass-by many people that need our hands of fellowship. We just move ahead and mind our business. We see people on TV who desperately need our help but what we do is to simply change the channel.
What do you do when God gives you this excellent opportunity to credit your account in Heaven? It is a great privilege for God to use us to bless other people, especially other Christians. Do not turn to the other path; do not neglect the needy. Walk straight to that path and win God's blessing for your life.
Remember, each time you help somebody you have helped yourself. Heaven helps those who help others. "Not because I desire a gift: but I desire fruit that may abound to your account. (Philippians 4:17)"
The reason why we have disabled, depressed, frustrated, poor and needy people in our society is that God wants to use them to bless our account in Heaven. God wants to write something good in our account although we are not Good (Luke 18:19).
"But a certain Samaritan, as he journeyed, came where he was: and when he saw him, he had compassion on him," (VS 33). If we neglect the duty of helping the needy "a certain Samaritan" will definitely come and do it. Look at the word "CERTAIN", does it suggest anything to us? God has people who are CERTAIN that they would have compassion on this people (disabled) amidst us.
If we do not respond to needs of the needy on our paths, someone else will take them in and take good care of them.
It is my prayer that we will all have something good to be written in our account in heaven.
"sell your possessions and give to the poor. Provide purses for yourselves that will not be exhausted, where no thief comes near and no moth destroys. For where your treasure is, there your heart will be also." (Luke 12:33-34 NIV emphasis mine)
What a Wisdom! Giving to the needy means crediting your heavenly account. You have eyes so that you can help others to see. You have legs so that you can help others to walk. Everything you have has been given to you. As you walk along that narrow path, be vigilant of any opportunity to credit your heavenly account. That is the reason you are walking along that path.
NOW is the TIME to credit your heavenly account. Are you a certain man?