God is Love?
by Judi
(San marcos,ca.)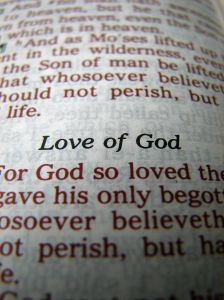 In our Bible study on the God of the Bible we asked the question: Who is God? The Bible says that "God is Love" (1John 4:16) But sometimes that is hard to grasp. Here is Judi's response to that Bible study on the true essence of God.


---
1. Is it easy for you to believe that God is Love, or is that a new concept for you?
I know that God is love, I just have a hard time understanding why would He love somebody like me.
2. Reflect upon a time when you lost sight of the true nature of God and began believing that He was not Love at all (be honest-we've all been there). How can you protect yourself from falling into that trap again?
When I stopped believing God loved me was when a the Mormen church told me that God will never forgive me for something that I had no control over. When they kicked me out of the church because of it I began to beleive God abandoned me and that he will never again love me. I carry that with me today and this happened when I was 16 and I am 42 now. I don't know how to protect myself from falling into that trap again.
Return to The Spiritual Growth Online Bible Study Group.