The God of the Bible


Lesson 1: His Heart and His Essence





God is love; and he that dwelleth in love dwelleth in God, and God in him. ~ 1John 4:16 (AMP)
Who is the God of the Bible?
Is God real? And, if so, what is at the heart of who He is? Anger? Wrath? Disappointment in man?
Answering these questions for yourself is the starting point for developing a deeper connection with God.
After all, in order to come to God, you must believe that He is, and that He is a rewarder of those that diligently seek Him (Hebrews 11:6).
The first thing we must establish in our hearts is that there is only one Creator of heaven and Earth.
Satan (yes, I said Satan) would have you think that truth is relative. Or that there is no way for us to really answer the question 'who is God,' or to know if He exists at all.
But, there is something about watching a beach sunset or seeing the smile of a small child. There is something about watching a bird bathe itself in a pond or the petals of a flower as they first start to bloom.
There is something within all creation that begs an answer to the question- Who is their Creator?
Just observe the world around you. There not only is a God, but all of creation bares His fingerprint. It beckons us to reach out our hearts and truly know the Master and Creator of heaven and Earth. His beauty. His mystery. His Love.


Who is the God of the Bible: Lesson 1
Optional Journal Topic
Grab paper and a pen, or open up a fresh Word document. Write down the question "Who is God?" Then, immediately write down everything that comes to your heart when you think about who God is to you personally. As you complete the remainder of the lessons in this Bible Study, add in things you learn that touch your heart. During future trials, you will be blessed to have something to pull out as you reflect upon who God is in your life.
---
So, Who is the God of the Bible?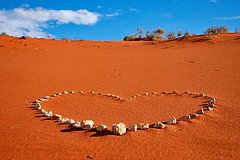 God is love;
and he that dwelleth in love dwelleth in God,
and God in him.
He who does not love
has not become acquainted with God
[does not and never did know Him],
for God is love.
-1John 4:16,8 (AMP)

You mean the heart of who God is isn't anger and wrath? No. Then why are there so many Christians that promote a vengeful angry God?
They are deceived.
Now, many of us are not deceived. We have an understanding of who God is. We've read it in His Word, the God of the Bible is, at His core, Love.
But, as the troubles of this world begin to come against us, in our hearts, we forget who God really is. At times, we even begin to blame Him for the pain that we are enduring.
Remember that Your enemy wants you, as a Christian, to allow yourself to believe that God is vengeful and angry. Why? Because, when Satan attacks you, you won't fight back. You will just assume it is "God's will" or "God's vengeance." If he can get his plan to work, he knows you won't whip out the Word and kick his butt!
That is why it is so important for you to continue to develop a closer relationship with God as you grow to know Him more intimately. As soon as you hear that quiet whisper trying to turn you against the Lord, your heart will sing out "He is good; for His mercy endureth for ever!" (1 Chronicles 16:34)
Who is the God of the Bible: Lesson 1
Reflection Question
1. Is it easy for you to believe that God is Love, or is that a new concept for you?
2. Reflect upon a time when you lost sight of the true nature of God and began believing that He was not Love at all (be honest-we've all been there). How can you protect yourself from falling into that trap again?
Now, before you move on, take a second to go back up and re-read 1John 4:18 and 8 about God being Love. Let these words of truth sink into your heart.
Now, let's look at who God is from a different angle. When you really want to know who someone is, who do you ask? Those who know them best - Their friends and loved ones. In Lesson 2 of this Bible Study we will do just that!
Introducing The God of the Bible:
Answered the question "Who is the God of the Bible?"
Click here to select your next topical Bible Study.